Moto Helmet BELL Star Dunlop Replica -
SPECIAL OFFER
Composite shell, homologation, ventilation, Velocity Flow, anti-scratch visor, protection against fogging, UV protection, 5-year warranty.
Recommended accessories
Description
Alternatives (2)
Moto Helmet BELL Star Dunlop Replica
Moto Helmet BELL Star Dunlop Replica is a helmet of the higher-middle level that features a composite shell with accentuated aerodynamics and perfect balance during riding. It has an effective ventilation system and an antiallergic inside with in-sewn silver fibres to keep hygienical and anti-bacterial stability of the padding. Both perfectly designed shell and practically positioned vents (tested in an air tunnel), assure fast conduction of the heated air out from the helmet. Heated-air outlet is increased by sub-atmospheric pressure that arises on the helmet back during riding. Integrated neck padding and chin protector reduce external noisiness and assure that your mind will not be distracted by unpleasant sounds. It can be equipped with a photochromic visor that gets dark depending on light intensity. As well as other helmets of the Bell brand, this helmet has been homologated according to the actual regulation ECE 22-05.
Technical parameters:
ECE 22-05 homologation
Velocity Flow – ventilation system
Flowadjust system for air-regulation controlling
Stable aerodynamics without oscillation and without helmet lifting at higher speed
Nutrafog II visor – resistant against scratching and fogging with UV protection
Visor adjusting: locked, micro-ventilation, open
Visor replacing without any tool
Upholstered strap with D-rings and magnetic holder
Optional photochromic visor
Panovision ™ Cutout: expands the field of view
Flex Impact Filling: premium three-layer impact pad designed to control energy from three impact options: low, medium and high speed
TeXtreme® Carbon Shell: thanks to ultra-thin TeXtreme® carbon fiber we created one of our lightest and most powerful shells
Virus® CoolJade ™ Power Mesh Filling: designed to resist heavy hardness in extreme conditions. Stay cool at all costs
Magnefusion ™ Magnetic Face Cushion: enables easy removal of padding for washing or, in case of an accident, helps rescuers easily release padding before removing the helmet
3K Carbon Shell: proved 3K carbon fiber gives this helmet the look, performance and feel of the real racing helmet
X-Static® XT2 Silver Filling: a leader in antimicrobial technology, it is clinically proved that X-Static provides protection against bacteria and odors throughout the life of the pad
Shell: lightweight, carbon composite
Lining: removable and washable X-static, in-sewn silver fibres, antibacterial
Weight: 1500 g
Moto Helmet BELL Star Dunlop Replica - alternatives -
all in stock
-36%
Motorcycle Helmet BELL RS-1 Liner Matte Black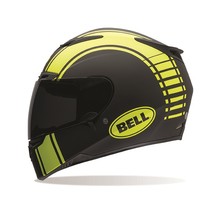 More info
-46%
Moto Helmet BELL RS-1 Gage Blue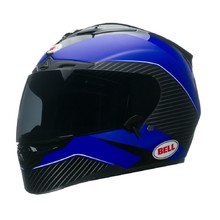 More info
Moto Helmet BELL Star Dunlop Replica is included in the following categories: