Powder Concentrate Nutrend Compress B.I.G. 2100g
Increases muscle gain, highly effective, contains beneficial substances.
Recommended accessories
Description
Alternatives (2)
Powder Concentrate Nutrend Compress B.I.G. 2100g
Powder Concentrate Nutrend Compress B.I.G. contains additional vitamins, inulin and colostrum. It is perfect for advanced and hardcore power athletes looking for effectiveness and active substances. The isomaltulose carbohydrate (Palatinose™) has the same energy value as glucose (i.e. supplies the body with sugar needed for maximum energy recovery), without causing a sharp increase in blood glucose (hyperglycemia). This trademarked formula, verified by years of research, allows us to offer you the best you can get on the market.
NitroPeptide Protein Blend provides the maximum and long-term supply of amino acids to muscles.
PeptoPro component – di- and tripeptide hydrolysed casein fractions that easily enter the blood flow through the digestive tract. Thanks to the unique production technology and high applicability, these small peptides are quickly absorbed into the bloodstream.
Whey protein (WPI and WPC) – is not absorbed as quickly since it needs to be broken up into individual peptides and amino acids. The whey protein isolate and concentrate enter the bloodstream with a delay, when the PeptoPro component is already being processed by the muscle cells. The gradual application of the individual NitroPeptide Protein Blend components enables the maximum and long-term supply of amino acids to muscles.
Whey protein isolate (WPI) – is processed using CFM (cross flow microfiltration) – a revolutionary production technology that prevents protein denaturation.
Because the individual amino acids are important for regeneration, COMPRESS B.I.G. also contains free BCAA, an extreme 6 000 mg per dose. COMPRESS B.I.G. also contains 3000 mg per dose of L-glutamine, another amino acid necessary for regeneration.
COMPRESS B.I.G. is intended for athletes trying to increase their muscle mass and power.
Recommended dosage: one portion = 70 g (2.5x measuring cup) per 450 ml of water.
Before workout: For maximum effect, we recommend to take one dose (70 g) approximately 60-90 minutes before workout, depending on the daily intake of nutrients.
After workout: You can take one dose (70 g) during the stretching phase (in the so-called metabolic window).
Use: One measuring cup is 28 g. Measure the dose with the measuring cup and stir it in the water (the high concentration of active substances requires a longer stirring time). Dilution ratio is 70g per 450ml of water. After opening store at the temperature not higher than 25°C and use within 2 months.
Warning: Suitable for athletes, contains natural sweetener and sweetener. Intended for a special diet. Not intended for children and pregnant or breastfeeding women. Keep out of children's reach. Store in a dry place in temperatures under 25°C, away from direct sunlight. Do not freeze. The manufacturer is not liable for any damage caused by improper use or storage.
Powder Concentrate Nutrend Compress B.I.G. 2100g - alternatives -
all in stock
Carbohydrate-Protein Concentrate Nutrend Mass Gain 2,250g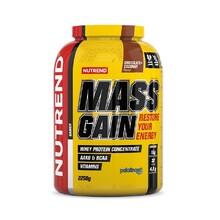 More info
Carbohydrate-Protein Concentrate Nutrend Mass Gain 1000g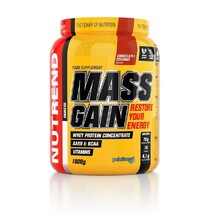 More info
Powder Concentrate Nutrend Compress B.I.G. 2100g is included in the following categories: