Cold Stone Set inSPORTline – 14 pieces
Cold stones, various sizes, smooth surface, regular shape, quality workmanship, wooden box, beneficial effects on the whole body.
We are sorry, but this product is no longer available.
Recommended accessories
Description
Parameters
Alternatives (8)
Cold Stone Set inSPORTline – 14 pieces
The inSPORTline Cold Stone Set is a set of 14 marble stones of various sizes intended for a cool face, head, neck or chest massage. They are largely used with the hot basalt stones and together they help activate blood circulation and revitalize the body. The white cold stones are a counterpart of the hot basalt stones. However, they also complement one another. Marble is called the king of antiquity. The word derives from the Greek "marmarein", i.e. to flash, sparkle, gleam. It is a highly polishable and very durable dolomite, which – thanks to its marine origins – contains many minerals. Marble helps achieve balance and contentment, reduces allergic reactions, strengthens the spleen, kidney, bowels and skin. The cold marble stones stimulate energy centers in the body, which help narrow the blood vessels, are effective against pain and inflammatory processes. The inSPORTline Cold stones are safely stored in a wooden box.
As has already been mentioned, the cold stone massage is often combined with the hot stone massage. That results in temperature changes which cause the release of toxins from the tissues without causing overstimulation of the nervous system and any discomfort. Moreover, the contrast effect of cold and heat enhances blood circulation, improves metabolism and stimulates the lymphatic system. The cold stones can also be used for beauty procedures as they help alleviate irritation of facial, neck and cleavage skin. Last but not least, the inSPORTline Cold stones are resistant at low temperatures. In order to cool them, one needs to place them in a freeze box or in the ice. Before the procedure, after cooling the stones to -8 to -10°C, it is necessary to wrap them in a towel for a few minutes.
Technical Description:
14-stone set
High quality natural material
High resistance and glaze
Beneficial effects on the whole body
Various sizes
Flat and smooth surface
Wooden box included
Material: marble (hardness 3-4)
Box dimensions: 19 x 20 x 7.5cm
Weight: 2.8kg
For home and professional use
Effects:
Supports blood circulation
Improves metabolism
Revitalizes the body
Stimulates the lymphatic system
Helps the revitalization of the body
Reduces allergic reactions
Strengthens the spleen, kidney, bowels and skin
Effective against pain
Set includes:
4 small round stones (4 x 0.7cm)
2 elliptic stones (5 x 4 x 1.5cm)
2 medium-sized oval stones (6.5 x 4.5cm)
2 medium-sized oval stones (7.5 x 5.5 x 1.2cm)
2 large oval stones (12 x 7 x 2cm)
2 large round stones (10 x 2.5cm)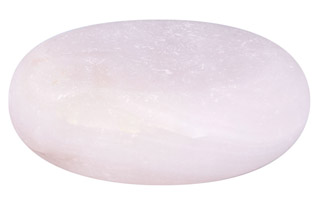 Highest quality
The cold stones are made of shiny and smooth resistant marble. Thanks to the marine origins it contains many minerals that have a positive effect on the whole body. The cold stones are often used together with the hot stones as they are counterparts but at the same time complement one another.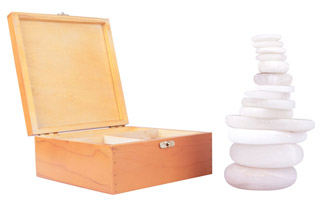 Wooden Box
All 14 stones are placed in a wooden box which prevents damage during transport. The box is also a protective case for storage. Thanks to its elegant appearance, it will fit in every massage parlor.
Cold Stone Set inSPORTline – 14 pieces - Product parameters
Cold Stone Set inSPORTline – 14 pieces - alternatives -
all in stock
Cold Stone Set inSPORTline – 14 pieces is included in the following categories: