Replacement Battery DHS Silver Fish for 26002, 26004 E-Bikes
Mounted behind the seat tube, voltage 37V, 10Ah capacity, Phylion technology.
Recommended accessories
Description
Parameters
Alternatives (5)
Video (1)
Replacement Battery DHS Silver Fish for 26002, 26004 E-Bikes
Replacement Battery DHS Silver Fish will give your DHS e-bike a new boost! Its main advantages are the distance range of up to 80 km and service life of over 700 charging cycles.

Warning: Store the battery in a dark and dry place with temperatures ranging between 10°C and 20°C. If you intend to store the battery for a longer period of time, charge it fully beforehand and then every 6 months after.


Technical description:
Mounted: behind seat tube
Voltage: 37V
Capacity: 10Ah
Technology: Phylion
Distance range: up to 80 km
Charging time to full capacity: 3.5 hours
Charging time to half capacity: 1 hours
Charging life cycle: up to 700
Dimensions: L38.2 x W8.5 x H11.2 cm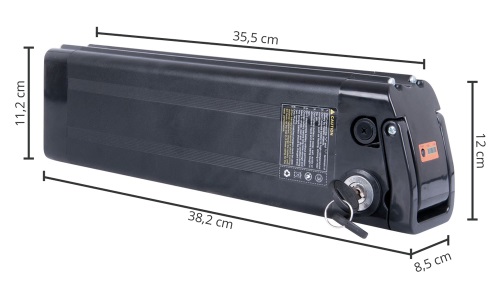 Battery storage and maintenance: We recommend storing the battery (or the entire product including the battery) in a shady, dry place at temperatures between 10 ° C and 20 ° C. If you do not intend to use the product for a long time, we recommend charging the battery and recharging it to 100% capacity at least once a month. Follow these guidelines to prevent the battery's nominal capacity from declining rapidly over its lifetime.

Replacement Battery DHS Silver Fish for 26002, 26004 E-Bikes - Product parameters
Number of charging cycles
700
Full capacity charging time
3.50 h
Half capacity charging time
1 h
Placement
Behind the seatpost tube
Replacement Battery DHS Silver Fish for 26002, 26004 E-Bikes - alternatives -
all in stock
Replacement Battery DHS Silver Fish for 26002, 26004 E-Bikes is included in the following categories: