Body protector EMERZE EM3
Protectors of the chest, spine, shoulders, elbows, forearms, anatomically shaped construction, zippers and straps to adjust the size.
Recommended accessories
Description
Parameters
Alternatives (2)
Body protector EMERZE EM3
Body protector EMERZE EM3 is a protective and impact-resistant protector that consists of chest, back, shoulder, elbow, and forearm protectors. Protectors are placed on breathable mesh material to provide a high level of comfort and ventilation while driving. The protectors are designed to make the movement very comfortable and enjoyable, aleso thanks to the foam reinforcements. Thanks to the elastic straps with Velcro straps and zips, the size can be adjusted according to your body anatomy. The Body protector EMERZE EM3 is an integral part of the motorcycle equipment that will increase your safety while riding a motorcycle.
Technical description:
a special protective and impact-resistant upper body protector
composed of chest, spine, shoulder, elbow, forearm protectors
anatomically shaped structure
the protectors are placed on a breathable mesh material
foam reinforcements
elastic Velcro straps and size adjustable zips
material: Highly resistant thermo polyurethane
Size chart:
| | | |
| --- | --- | --- |
|   | Waist diameter (cm) | Chest diameter (cm) |
| XS | 64-70                     | 84-88 |
| S | 66-72                     | 88-94 |
| M | 68-90                   | 92-98 |
| L | 72-92                   | 98-104 |
| XL | 80-98                   | 102-108 |
| 2XL | 90-104                 | 110-116 |
| 3XL | 94-112                 | 114-120     |
| 4XL | 98-116 | 118-124 |
| 5XL | 102-122 | 122-128 |
Body protector EMERZE EM3 - Product parameters
Material
All protector materials are distinguished by their hardness and resistance to impacts. All plastic mateirals are also thermally hardened to provide maximum protection.
Polyurethane
Ventilation
With most protectors, ventilation is provided via permeable and breathable material. Ventilation ensures sweat release and allows the skin to breathe better. That's why ventilated protectors are more comfortable to use.
yes
Detachable arm protectors
The shoulder and elbow protectors can be detached from the rest and the two parts can then be used separately.
no
Adjustable straps
Adjustable straps are an essential part of body protectors. They allow you to adjust the protectors according to the contours of the user's body and perfectly keep them in place.
yes
Detachable back protector
The back protector is attached with a zipper, meaning it can be removed and you can use the body protector without it.
no
Body protector EMERZE EM3 - alternatives -
all in stock
Body armor EMERZE EM5 Junior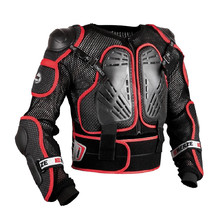 More info
Body armor EMERZE EM5 Kids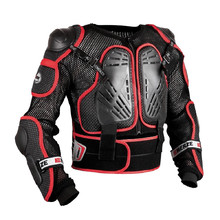 More info
Body protector EMERZE EM3 is included in the following categories: