Cannabis Varicose Vein Gel Botanico 100 ml
Regeneration and hydratation effects, for treating your varicose veins and swelling, stored in a tub.
Recommended accessories
Description
Parameters
Alternatives (2)
Cannabis Varicose Vein Gel Botanico 100 ml
Special Gel with Cannabis Extract Botanico is suitable mainly for treating your legs if you suffer from varicose veins or swellings. It draws from the regeneration effects of the cannabis extract and the healing properties of comfrey, arnica, marigold, agrimony, fennel and rutin. The gel is also great for preventing chronic vein insufficiency.
The healing properties of cannabis have been known to mankind for millennia. This product includes a natural cannabis extract. The extract is made up of strictly natural substances that have strong regeneration properties. It clears cells, nourishes them, supplies them with energy, perfectly regulates their water use, helps eliminate dead cells and accelerates heathy cell division. Thanks to its stimulating and antibacterial properties, as well as regeneration strength, cannabis is irreplaceable, especially as a way to prevent skin conditions. In case of damage to the cells, it can stimulate their natural regeneration. The natural anti-inflammatory and antimicrobial effects combined with nutritious aspects stimulate cell growth and therefore further natural regeneration. All these unique properties make cannabis ideal for skincare, earning it a place in modern medicine, as well as cosmetics. It has been successfully used to treat psoriasis, atopic eczema, various skin infections, but also as a skincare product, regenerating, nourishing or hydrating. Because of its unique composition, cannabis serves as a part of concoctions used on children's sensitive skin.


Technical description:
Regeneration and hydration properties
For treating varicose veins and swellings
With cannabis extract – strictly natural substances
Even for children's sensitive skin (can be used since infancy)
Volume: 100 ml
Cannabis Varicose Vein Gel Botanico 100 ml - Product parameters
Volume
We offer two massage oil volumes. The larger half-litre variant is suitable mainly for those who plan on using the oil more often. The 500-ml bottles also include a practical dropper so you can use them without having to unscrew the cap.
The smaller 200-ml bottles are for users who won't use the oil as frequently or for those who want to have more oil variants in smaller volume available. Two of our products have 100-ml bottle, specifically the anti-cellulite and regeneration gels. This volume will last a long time, since only a minimum amount of gel needs to be applied at a time.
100 ml
Use
Pick from several massage oil options and decide which one is the best for you. If you long for an envigorating and relaxing massage for your entire body, you should try a relaxing oil. If you enjoy sports and physical activities, a sports oil would be best suitable. Sports oil will release tension from your muscles and improve regeneration of fatigued, stiff and strained muscles. Stimulation oil has energizing effects and is efficient in combating physical and mental fatigue. Classic oils can be used any time, for example for an individualy prepared massage. Regeneration gel with cannabis is great for treating burns, scrapes and other mechanical damage to the skin. Then there is the anti-cellulite gel that effectively stimulates blood circulation and prevents the so-called orange peel skin.
Regeneration
Fragrance
Fragrance is connected to the purpose of a particular massage oil. Relaxing oils have soothing scents of chocolate, cardamom or jasmine. Sports oils will calm you down with the scent of orange with rosemary, while stimulation oils will energize you with a mix of rosemary and peppermint. Classic massage oil is odourless and can therefore be used in various ways. Anti-cellulite oil has a light and refreshing scent of grapes.
Cannabis
Cannabis Varicose Vein Gel Botanico 100 ml - alternatives -
all in stock
Massage Gel Belea Seven Herbs 100 ml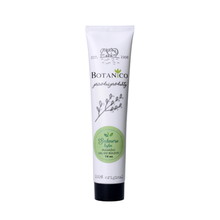 More info
Cannabis Varicose Vein Gel Botanico 100 ml is included in the following categories: