Weightlifting Bench for Home Gym MAGNUS L011
Six adjustable positions, 260 kg weight limit, 4 stand posts, separate isolated biceps extension with a seat.
Recommended accessories
Description
Alternatives (8)
Weightlifting Bench for Home Gym MAGNUS L011
Weightlifitng Bench MAGNUS CLASSIC MC-L011 is a piece of equipment essential for working with weights. The high-quality padding on both the seat and the backrest provides great comfort. The backrest can be adjusted to 4 positions and the seat to 2. The backrest can also be inclined from 0° to 90°. Weightlifting Bench MAGNUS CLASSIC MC-L011 is durable and made of high-quality materials. It can withstand the weight of a 160-kg barbell and a 100-kg user. With the backrest adjusted to 90°, both the user and the barbell can weight up to 100 kg. Such weight limits are possible thanks to the durable frame resistant to bending and scratching. Two pairs of stand posts are included (the smaller pair connected by a bar), as well as an isolated bicep extension. The height of the stand posts can be easily adjusted (7 levels) to best suit your needs. The underside of the stand posts' base is covered with an anti-slip material to ensure stability on any surface. The stand posts can additionally be used separately without the bench. The isolated bicep extension can also be easily adjusted according to your height and is made of very strong material that will withstand any load. The extension features its own seat and can be used separately as well. Weightlifting Bench MAGNUS CLASSIC MC-L011 is an equipment designed for the needs of bodybuilders or weightlifters. It is suitable for home use.


Technical description:
Bench:
2 adjustable backrests with padding
6 adjustable positions (4+2)
Strong frame and welds
Seat length: 30 cm
Backrest length: 80 cm
Bench length in total: 120 cm
Weight limit: 260 kg
Weight limit with the backrest folded down: 200 kg
Weight: 15 kg
Suitable for home use
Stand posts:
Can be used separately
4 stand posts in total (smaller pair connected with a bar)
Adjustable height (7 levels)
Anti-slip materials on the underside
Strong frame and welds
Height of the larger stand posts: 80 – 130 cm
Height of the smaller stand posts: 30 – 45 cm
Smaller pair dimensions: 70 x 20 cm
Weight: 4.5 kg
Isolated bicep extension:
Can be used separately
Strong frame
Adjustable height
Height: 74 – 92 cm
Backrest width: 55 cm
Backrest thickness: 5 cm
Base dimensions: 70 x 20 cm
Seat dimensions: 26 x 40 cm
Weight: 20 kg
Exercised body areas: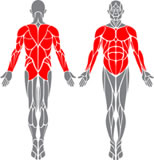 Weightlifting Bench for Home Gym MAGNUS L011 - alternatives -
all in stock