Indoor Power Cage Revolution 13 Monkey House
Power cage for indoor use, can stand on its own, multi-purpose station.
Recommended accessories
Description
Parameters
Alternatives (3)
Indoor Power Cage Revolution 13 Monkey House
Indoor Power Cage Revolution 13 Monkey House is a multi-purpose station suitable for professionals, as well as complete beginners. The cage will help you exercise your entire body. The frame is made of high-quality materials resistant to abrasions and scratching. Since there is no weight limit, everyone can use it.

The power cage includes lateral monkey bars (King and Princess), triple bar, double bar, single bar, flag leg and multi leg, allowing for a wide range of exercises for the entire body. Activities such as street workout, calisthenics or cross training for the most part include bodyweight exercising, which has many advantages. As opposed to weightlifting, working with your own weight is much easier on your tendons, ligaments and joints. Street workout also improves your flexibility and endurance, as well as your muscle balance and posture.

The cage can be used by an individual or in groups. Forget about expensive training equipment! Bodybuilding is on the rise again, going back to basics and prioritizing training with your own weight. Such exercises are part of training programs of professional football and basketball players, swimmers, soldiers and other athletes. Become one of them!
Technical description:
High-quality workmanship
Multi-purpose station
For bodyweight training
Highly durable
Suitable for users of all ages
Dimensions: 600 x 180 cm
Weight limit: none
For both professionals and beginners
Suitable for commercial and non-commercial use
Stations:
Lateral monkey bar (King and Princess)
Triple bar
Double bar
Single bar
Flag leg
Multi leg
Indoor Power Cage Revolution 13 Monkey House - Product parameters
Indoor Power Cage Revolution 13 Monkey House - alternatives -
all in stock
Power Cage inSPORTline Trainning Cage 40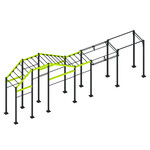 More info
Power Cage inSPORTline Trainning Cage 20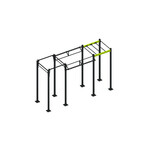 More info
Power Cage inSPORTline Trainning Cage 60
More info
Indoor Power Cage Revolution 13 Monkey House is included in the following categories: