Ninebot Mini - flight E self-balancing electric vehicle
Electric balance two-wheeler with the possibility of fast disassembly into a trunk of the car, power 2 x 1350 W, max. range 20 km, max. speed 20 km/hour + limiter 4 km/hour, load capacity 100 kg, 4 hours charging time, the possibility of setting via a mobile application iOS / Android, intended for paved surfaces with a slope of up to 20 degrees, allows driving in the rain.
We are sorry, but this product is no longer available.
Recommended accessories
Description
Parameters
Alternatives (3)
Video (1)
Ninebot Mini - flight E self-balancing electric vehicle
Ninebot Mini - flight E is top electric balance two-wheeler of the new generation of these machines. For a flawless driving experience is the two-wheeler equipped with two powerful engines with an output up to 2700 W, high-performance and exact control unit evaluating the movement of the driver up to 200 times per second to provide a perfect response when driving. The power is provided by two high-performance batteries with a voltage of 55 volts, which will provide enough energy for up to 20 km driving distance, while the charging time is only 3 hours. Other key features of the new Ninebot Mini - flight E are protective mudguards and covers with illuminated design elements (in the area of mudguards and control console neck), closed chassis allowing driving in the rain or a control console with a height of 104 cm and a LED screen displaying all the important driving information (battery status, speed, time). For its features, modern design, range and 100 kg load capacity is the balancing two-wheeler Ninebot Mini - flight E intended for use on solid asphalt roads and paved roads with a slope up to 20 degrees. Ninebot Mini - flight E is designed for casual driving, for shipments within business areas, exhibition grounds etc.
Technical description:
balance electric two-wheeler
purpose: driving on paved roads, halls, corporate grounds, exhibition grounds
control console with LED display
2 x remote control
6 gyroscopic sensors for precise position and inclination sensing
powerful controller with evaluation up to 200 times per second
possibility of driving in the rain
anti-theft system
remote control
Detailed technical specification:
maximum slope of the terrain: 20 degrees
platform height: 236 mm
ground clearance: 104 mm (overcoming uneven terrain in one spot)
driving in the rain
wheels diameter: 18" (45 cm)
turning radius: 0 degrees (can turn on the spot)
maximum speed: 20 km/hour
speed limiter: 4 km/hour (recommended for beginners)
maximum driving distance: 20 km
charging time: 4 hours
dimensions: width 64 cm x depth 45 cm x height 104 cm (handle height is suitable for body height 150-190 cm. For taller figure a higher handle can be ordered)
LED display of the control console displays: battery status, time, speed
battery: 2 x LiFePO4, 55 V / 450 Wh (battery is supplied partially charged)
charger: 180 W
minimum number of battery charge cycles: 2000 +
weight: 23.5 kg
load capacity: 100 kg
Recommended accessories:
side stand
Windrunner LED Flashlight (2000 Lumens)
Ninebot Mini - flight E self-balancing electric vehicle - Product parameters
Parameters
64 x 45 x 104 cm
Battery capacity indication
yes
Ninebot Mini - flight E self-balancing electric vehicle - alternatives -
all in stock
-32%
Electric Self-Balancing Vehicle Windrunner Handy X3
More info
Electric Two-Wheeler Windrunner Handy U2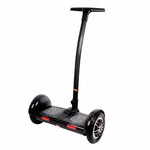 More info
-38%
Electric Two-Wheeler Windrunner Handy J1
More info
Ninebot Mini - flight E self-balancing electric vehicle is included in the following categories: