inSPORTline Pyrio Vibration Machine
Vertical vibrations, 20 levels of vibration speed, well-arranged display, remote control, load capacity 100 kg.
We are sorry, but this product is no longer available.
Recommended accessories
inSPORTline Pyrio Vibration Machine
Vibration board inSPORTline Pyrio is an ideal tool for fast recovery after excessive physical exertion. It improves blood circulation and acts against long-term stress and depression. Massage on Vibration board inSPORTline Pyrio is effective, relaxing, safe and time saving. With a remote control is relaxation on the Vibration board maximally comfortable and natural. It is ideal for shaping the figure, improving joint mobility and relaxation or stress relief. It works on the principle of vibrations that cause reflexive muscle contractions, thus strengthening them effectively. Exercise is not time consuming, taking just 5 minutes while standing with knees slightly bent and the results occur almost immediately. Wide variety of exercises can be used on the whole body. The arms and back can be then practiced with two rubber ropes attached to the bottom of the device. Thanks to the effective vibrations, small size and excellent price / quality ratio the Vibration board inSPORTline Pyrio became a popular variant of vibration machines.
Main advantages:
effective vibrations for effective muscle strengthening
helps to quick and effective figure shaping and weight loss
vibrations increase the exercise efficiency by up to three times
facilitates rapid recovery and regeneration after physical strain, sport or exercise
can be used as an aid in the treatment of rheumatism and other diseases of bones and joints (only after consultation with your doctor)
improves blood circulation
it is effective in the treatment of pain and stiffness in joints and muscles
improves balance and coordination
effective in the struggle against cellulite
fights stress and depression
enhances the production of growth hormone
Technical description:
type of vibration: vertical
motor power: 230 W
vibration frequency: 50 Hz
button for switching frequencies: 25, 35 and 45 Hz
amplitude: 8 mm
computer with well-arranged display
3 user programs
remote control
strengthening ropes for maximum variability of exercise
smooth speed adjustment: 1 - 20
setting time: 0 - 10 minutes
maximum load capacity: 100 kg
dimensions: length 77 cm x width 44 cm x height 14 cm
weight: 17 kg
intended for domestic use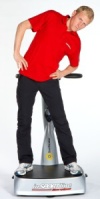 Recommended by Petr Kopriva – the InSPORTline Coach
Reflexive muscle contractions on Vibration board promote blood circulation and muscle functioning. After many years of experience in triathlon I recommend regular and effective exercise.
Try 4 new specialized e-workouts!
Loose weight to the max!
Firm your body
Shape your figure
Relax and unwind
inSPORTline Pyrio Vibration Machine - Product parameters
Vibrating area size
77 x 44
Vibration frequency
25 - 50
Number of vibration speeds
20
Compensating for uneven floor
no
Computer Control
Integrated + remote
Dimensions when fully assembled
77 x 44 x 14
inSPORTline Pyrio Vibration Machine is included in the following categories: