DBTC-SF Body-Solid Pro-Dual Bicep Curl -
SPECIAL OFFER
Machine to develop your biceps and triceps.
Recommended accessories
Description
Alternatives (8)
DBTC-SF Body-Solid Pro-Dual Bicep Curl
Insportline Body Solid introduces Pro Dual - product of commercial line. This machine can stand alone or be combined with a four-stack weight tower to build a single multi-function gym. Ideal for home, hotel and commercial gyms.
Technical description:
adjustable arm pad is ergonomically designed to fit multiple users and eliminate unwanted shoulder movements
3-position pivoting handles reduce torque and provide continuous resistance around a natural arc
14 combined adjustments between the bicep and triceps exercises provide users with multiple starting points and greater range of motion
2:1 power transfer with 95kg (210lb) weight stack can be doubled up to 190kg (420lb)

this machine can stand alone or be combined with a four-stack weight tower to build a single multi-function gym
Technical data:
standard weight stack: 95 kg (210lb)
mainframe: 11 gauge 2.375" x 4.625" oval tubing
floor space dimensions: 135 cm x 102cm x 158cm
5.5mm dia., 2500lb rated aircraft cable
Durafirm upholstery over 2" high density foam
Optional attachments:
Includes a 210 lb. weight stack

with a 141kg (310 lb.) weight stack option
one weight: 2,5kg (5lb)
noise absorbing cushions
Ideal for home, hotel and commercial gyms.

Price (excl. weights): 28.900,-CZK

Prolonged warranty



Toned body parts: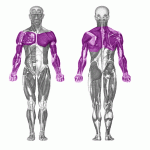 Recommended by Alois Hadamczik, coach of Czech ice-hockey team


DBTC-SF Body-Solid Pro-Dual Bicep Curl - alternatives -
all in stock
DBTC-SF Body-Solid Pro-Dual Bicep Curl is included in the following categories: