Scooter WORKER Tomason 2013
Scooter with 28"and 20" wheels, load capacity 130 kg, suitable for longer trips.
We are sorry, but this product is no longer available.
Recommended accessories
Description
Parameters
Alternatives (1)
Scooter WORKER Tomason 2013
Scooter WORKER Tomason 2013 meets the highest safety standard. Structurally very stable and fast scooter equipped for high speed with aluminium rims and spokes and slike tires for minimum resistance. Front 28" and rear 20" wheels with quality aluminium front and rear V-break brakes ensure greater braking effect. The scooter is designed for use on a smooth surface as well as in a moderate terrain.
                                                                
Technical descritpion:
durable and steel lengthened frame
front / rear aluminium ''V'' BRAKE brake
lightweight aluminium rims
wide handlebars with bar ends
reflectors in the spokes
propstand
rear mudguard
tyres: front - 28" x 1.75", rear - 20" x 1.75''
handlebar height min/max: 90/100 cm
handlebar width: 57 cm
overall length: 170 cm
footboard length: 35 cm
load capacity: 130 kg
weight: 14 kg
suitable for longer trips
Scooter WORKER Tomason 2013 - Product parameters
Weight limit
Maximum weight limit of the load. For average weight 80 kg, 100 kg weight limit is optimal, if you want to use the scooter for recreational purposes only. For heavy terrain and frequent use, you may want to choose a steel frame scooter with the weight limit in the range of 120 - 150 kg.
130 kg
Handlebar height
The recommended handlebar height for adults is generally 90 - 120 cm. Suitable handlebar height for children is usually 50 cm and higher (depends on the height of the child). The ideal handlebar height is approximately at the level of the rider's hipbone. If the handlebars are too low, the rider may experience back pain. If the handlebars are too high, steering the scooter becomes difficult.

90-100 cm
Scooter WORKER Tomason 2013 - alternatives -
all in stock
Scooter WORKER Vedic 2013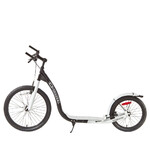 More info
Scooter WORKER Tomason 2013 is included in the following categories: