Nutrend ProFigur 33g
Muesli bar ProFigur 33 g semi-coated high-fiber with 10 vitamins added.
We are sorry, but this product is no longer available.
Recommended accessories
Description
Alternatives (1)
Nutrend ProFigur 33g
Nutrend ProFigur 33 g semi-coated bar has the basis made from selected sources of cereals and fruit. It has a full, juicy flavour, gives your energy, vitamins, and promotes your healthy lifestyle. High fiber content: 8-10 %, depending on the bar flavour. Enriched with vitamins B1, B2, B3, B5, B6, B12, H, C, E and folic acid: 15 % RDD in a bar.
Contents:
high fiber content: 8-10 %, depending on the bar flavour
enriched with vitamins B1, B2, B3, B5, B6, B12, H, C, E and folic acid: 15 % RDD in a bar
weight: 33 g
Nutrend ProFigur 33g - alternatives -
all in stock
Drink Nutrend Carnitin 750 ml (no coffeine)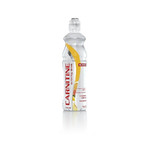 More info
Nutrend ProFigur 33g is included in the following categories: