Multi weight rack Body Craft T3 Life tree -
SPECIAL OFFER
Commercial fitness horizontal bar, 180 kg load capacity, robust construction, gymnastic ball, expanders, hanging AB straps.
Recommended accessories
Description
Parameters
Alternatives (8)
Video (1)
Multi weight rack Body Craft T3 Life tree
Multifunctional fitness horizontal bar Body Craft T3 Life Tree is a professional multifunctional station that offers the highest quality in its category. Sturdy steel construction with a frame profile of 8.5 x 4.5 cm is sprayed with a special colour Platinum Gray, which protects the construction from scratches and thus maximum service life is ensured. The upper bar is designed for pull-ups, parallel bar will help you to perfectly shape complete abdominal muscles and spine area. The bar contains, among other things, parallel bar, gymnastic ball, expanders, or hanging AB straps, which allows you to perform hundreds of different exercises. With AB suspension straps the entire lower body, abdominal muscles, but also biceps and triceps can be strengthened more efficiently. The user is forced to balance the load with his own strength, which helps to strengthen the muscles evenly. Gymnastic ball also forces the user to balance during exercise which thus leads to the involvement of more muscles than conventional exercises on a horizontal bar. The ball can be easily slid out and used separately. Exercise on a gymnastic ball reduces stress of the body, strengthens the abdominal and back muscles. Other accessories include adjustable rubber expanders, which are designed to simulate exercise with dumbbells. Exercises and accessories can be combined in various ways. Last but not least, has the multi-functional fitness horizontal bar Body Craft T3 Life Tree bottom handles that allow press-ups. Thanks to these excellent properties the horizontal bar have become highly sought-after, whether for commercial or non-commercial use.
Technical description:
professional multifunctional horizontal bar
allows to perform more than hundred of different positions and exercises
oval steel tubes with a profile of 8.5 x 4.5 cm
special coating Platinum Gray (frame sprayed with a special paint that protects the construction from scratches)
large handles for a better grip during exercise
horizontal bar equipment: AB straps, gymnastic ball, expanders
dimensions: length 115 cm x width 120 cm x height 211 cm
weight: 51 kg
load capacity: 180 kg
lifetime warranty for a frame (for domestic use)
category S (according to EN957) - suitable for all commercial fitness clubs
Horizontal bar and parallel bar
intended for all kinds of grips
non-slip grip
AB straps for hanging
horizontal and vertical straps adjustment
straps width: 20.5 cm
metal snap-hook
suitable for strengthening the abdominal muscles and lower limbs
Gymnastic ball
anti-slip surface
ball material: highly resistant PVC
ball diameter: 55 cm
load capacity: 150 kg
can be used separately
Rubber expanders
handle made of hardened plastic
3 types of stiffness
3 types of attaching to the horizontal bar
material: highly elastic latex
Hundreds of exercises thanks to the accessories
Multifunctional bar has a number of accessories that allow to perform a variety of exercises. Balancing on a gymnastic ball in combination with the horizontal bar helps to engage more muscles than during conventional exercise. Rubber expanders replace dumbbells and AB hanging straps create more difficult level of exercise, especially abdominal muscles and lower extremities.
High stability and load capacity
Sturdy steel construction with a frame profile 8.5 x 4.5 cm ensures high stability during exercise. Thanks to the high resistance there is a lifetime warranty provided for the frame for domestic use. This is also contributed by a special finish Platinum Gray that protects the frame from scratches or other abrasions. The robustness is also associated with high load capacity 180 kg.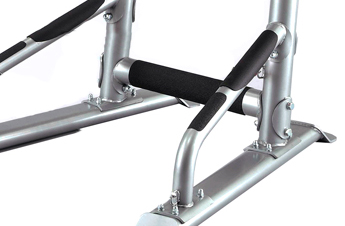 Extended 5-year warranty

By exercise you strengthen these body parts          
Recommended by Petr Kopriva, the inSPORTline Coach

Extended warranty applies to this product.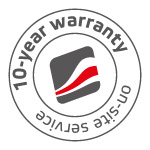 Recommended by Petr Kopřiva, the inSPORTline coach:
Strengthening your stabilization muscles will help you reduce longterm back pain.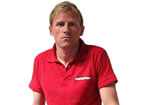 Multi weight rack Body Craft T3 Life tree - Documents to download
Multi weight rack Body Craft T3 Life tree - Product parameters
Pull-up bar type
Multipurpose
Multi weight rack Body Craft T3 Life tree - alternatives -
all in stock
Multi weight rack Body Craft T3 Life tree is included in the following categories: