Multi-Purpose Power Tower Body Craft T3 Life Tree
Commercial-use pull-up bar, sturdy frame, gymnastic ball, resistance bands, suspension system.
Recommended accessories
Description
Parameters
Alternatives (8)
Video (1)
Multi-Purpose Power Tower Body Craft T3 Life Tree
Multi-Purpose Power Tower Body Craft T3 Life Tree is a professional multi-purpose dip station, offering the highest quality in its category. The sturdy steel frame with 8.5 x 4.5 cm profile is coated with a special Platinum Gray paint that protects it against scratching, ensuring long service life. The top bar is for pull-ups, while the parallel bars will help you tone your abs and muscles around your spine. The power tower also features a gymnastic ball, resistance bands and a suspension system, which together present over a hundred possible exercise positions. The suspension system will help you exercise much more effectively, especially the lower half of your body, abs, biceps and triceps. The user is forced to maintain balance using their own weight, meaning all muscles are strengthened evenly. The gymnastic ball provides a balancing exercise as well, engaging more muscles than during regular pull-ups. The ball can be easily removed and used separately. Exercising with a gymnastic ball relieves tension in your body and strengthens your abs and back muscles. Other accessories include adjustable resistance bands that you can use to simulate lifting weights. The accessories and exercises can be combined at will. Multi-Purpose Power Tower Body Craft T3 Life Tree also features lower grips for push-ups. Because of all these attributes, this pull-up bar has become a popular item for both home or commercial use.


Technical description:
Professional multi-purpose power tower
Allows for more than 100 different exercises and positions
Round steel tubes with 8.5 x 4.5 cm profile
Special Platinum Gray coating (scratch-resistant paint)
Handles with large grips for a better hold
Accessories: AB suspension system, gymnastic ball, resistance bands
Dimensions: L 115 cm x W 120 cm x H 211 cm
Weight: 51 kg
Weight limit: 180 kg
Lifelong warranty for the frame (for home use only)
Category S (EN 957) – suitable for all commercial gyms
Pull-up bar and parallel bars
Suitable for all types of grip positions
Anti-slip grips
AB suspension system
Straps both horizontally and vertically adjustable
Strap width: 20.5 cm
Metal snap hook
Suitable for strengthening your abs and legs
Gymnastic ball
Anti-slip surface
Material: very durable PVC
Diameter: 55 cm
Weight limit: 150 kg
Can be used separately
Resistance bands
Hard rubber grips
3 resistance levels
3 places to attach them to the power tower
Material: highly flexible latex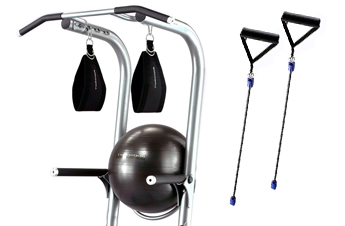 Accessories for over a Hundred Different Exercises 
The multi-purpose power tower features a variety of training accessories that significantly expand your exercise options. Balancing on a gymnastic ball while using the pull-up bar helps you engage more muscles than during regular training. The resistance bands serve as a substitute for weights and the suspension system allows for more difficult exercising, especially of your abs and legs.
Great Stability and High Weight Limit

The robust steel frame with 8.5 x 4.5 cm profile ensures high stability while training. Because of the high weight limit, there is a lifelong warranty on the frame (home use only). The special Platinum Gray coating protects the surface from scratches and other abrasions. Since the frame is so robust, it can easily carry the high weight limit of 180 kg.
 
Extended warranty applies to this product.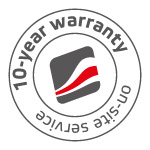 Recommended by Petr Kopřiva, the inSPORTline coach:
Strengthening your stabilization muscles will help you reduce longterm back pain.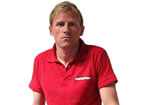 Multi-Purpose Power Tower Body Craft T3 Life Tree - Documents to download
Multi-Purpose Power Tower Body Craft T3 Life Tree - Product parameters
Pull-up bar type
Multipurpose
Multi-Purpose Power Tower Body Craft T3 Life Tree - alternatives -
all in stock
Multi-Purpose Power Tower Body Craft T3 Life Tree is included in the following categories: