Power Rack Body Craft PFT Cable Column
Power rack for commercial use, 2x70 kg weights, robust frame, number of accessories, wide range of exercise options.
Recommended accessories
Description
Parameters
Alternatives (2)
Power Rack Body Craft PFT Cable Column
Power Rack Body Craft PFT Cable Column is a professional piece of equipment, taking a place among the best in its category. The sturdy steel frame with 8.5 x 4.5 cm profile is coated with a special Platinum Gray paint to make it scratch resistant. Power Rack Body Craft PFT Cable Column offers more than 100 effective ways to exercise your entire body. The rack features the essential pulley to strengthen your arms, especially biceps and triceps. The rack also has a number of accessories to widen the range of your exercise options. The stirrup will help you strengthen your legs through hip abductions and adductions, the long bar allows you to simulate rowing and with the short bar you can simulate tennis strokes. You can also use a nylon strap to get a boost while doing pull-ups. To make your training even more effective, you will also receive a booklet with the description of 70 different exercise options. If you the power rack with a bench, more training variations will become available to you, such as butterfly or reverse butterfly. Other advantages include fibreglass nylon pulleys with ball bearings that can carry up to 70 kg on each side. The flexible steel cables ensure smooth and quiet operation. The power rack is also distinguished by its anti-slip grips, simple resistance adjustment, great stability and detailed design. All these excellent attributes make Power Rack Body Craft PFT Cable Column a very popular and sought-after product.


Technical description:
Professional power rack
A great number of exercises available
Round steel tubes with 8.5 x 4.5 cm profile
Special Platinum Gray coating (to prevent scratches)
Upper cross-bar
A panel for attaching an accessory
Anti-slip grips
Great stability
Simple resistance adjustment
30 positions for height adjustment
Fibreglass nylon pulleys with ball bearings
Flexible steel cables covered with nylon
Pulley diameter: 10 cm
Guiding rod diameter: 2.5 cm
Weights: 2 x 70 kg (2 x 10 2.5-kg blocks and 2 x 10 4.5-kg blocks)
Dimensions: W 135 cm x L 102 cm x H210 cm
Weight: 336 kg
Lifelong warranty on the frame (home use only)
Category S (EN 957) – suitable for all types of commercial gyms
Included accessories:
Long bar, attached at both sides
Short bar, attached to one side
Nylon strap, attached to both sides
Stirrup, attached to one side
2 separate handlebars
Multi-purpose cross-bar
Booklet describing more than 70 exercises
Training stations:
Butterfly simulation
Biceps pulley
Biceps pulley with support
Triceps pulley
Side raises (shoulders)
Hip abductions (outer thighs)
Hip adductions (inner thighs)
Squats with pulley
Tennis stroke simulation
Push-ups on lower parallel bars
Rowing (lower pulley)
Standing chest presses

Bench presses (with a bench)

Butterfly with back support (with a bench)

Reverse butterfly with chest support (with a bench)

Seated shoulder presses (with a bench)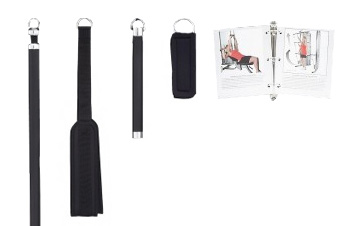 Accessories
The power rack includes a variety of accessories that provide ways to exercise you wouldn't find on standard power racks. This allows you to discover new ways to strengthen your body. All the exercise options are described in the booklet, always at hand right on the rack. The most important accessories include a long bar, short bar, nylon strap and a stirrup.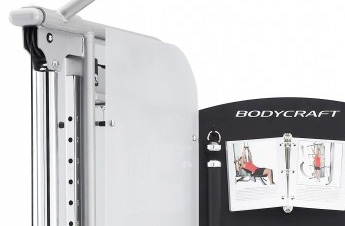 Great Stability and High Weight Limit
The sturdy steel frame with a profile of 8.5 x 4.5 cm remains stable during your training. In case of home use only, the frame is under a lifelong warranty. The surface is further protected by the special Platinum Gray coating that prevents it from getting scratched.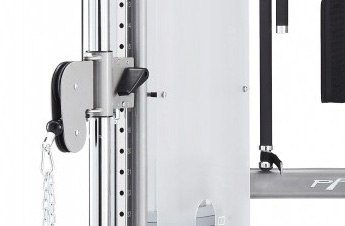 Maximum Adjustment
The power rack has sophisticated yet simple resistance and grip height adjustment. This way, you can set the power rack exactly as you wish in a matter of seconds. The handgrips' height can be adjusted to 30 positions, which makes the rack suitable for users of all heights.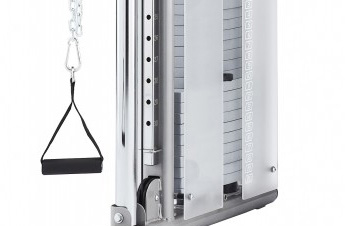 Weights and Pulleys
The user can easily adjust the resistance between 2.5 to 72.5 kg on each side (maximum 145 kg). All 20 weights are divided to 2 x 10 2.5-kg blocks and 2 x 10 4.5-kg blocks. The fibreglass nylon pulleys with ball bearings ensure smooth and quiet movements.
Recommended by Petr Kopřiva, the inSPORTline coach:
Strengthening your stabilization muscles will help you reduce longterm back pain.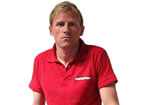 Exercised body areas: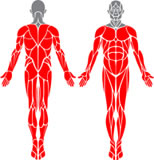 Power Rack Body Craft PFT Cable Column - Documents to download
Power Rack Body Craft PFT Cable Column - Product parameters
Height of the structure
210 cm
Maximum user height
not limited
Power Rack Body Craft PFT Cable Column - alternatives -
all in stock
Cable Power Rack Body Craft Jones Platinum
More info
Power Rack inSPORTline Cable Column CC300
More info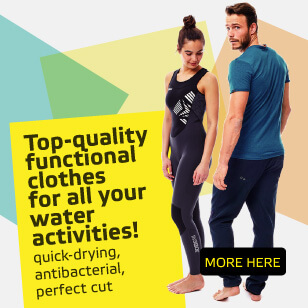 Power Rack Body Craft PFT Cable Column is included in the following categories: