Trampoline for Medicinbal inSPORTline CF060
Small trampoline for strengthening and exercises with medicine ball, a helper for exercises of plyometric nature, suitable for use in gyms, home and outdoors.
Recommended accessories
Description
Parameters
Alternatives (8)
Video (1)
Trampoline for Medicinbal inSPORTline CF060
Trampoline for medicine ball inSPORTline CF060 is a modern trampoline with a spring surface tilted so that it could bounce a medicine ball during an exercise and thus meet the demands of exercises of plyometric character. These are focused mainly on developing explosive strength, which is making an effort to either the whole body or just its individual parts. Therefore, the trampoline is suitable for all types of people, who workout this way, because when throwing and catching a medicine ball they will never need an assistant again and will be self-sufficient. This trampoline will be also appreciated by coaches who, with its help, will be able to engage all their players both outside and in the gym. The tilted surface of the trampoline has 8 adjustable inclination options. It is also possible to attach weights to the trampoline to ensure its stability.
Technical description:
trampoline with a tilted spring surface for exercises with medicine ball
suitable for exercises of plyometric character
good tool for developing explosive strength
possibility of using both outside and in the gym
assists in throwing and catching a medicine ball
possibility of additional buying and attaching weights
8 adjustable inclinations
trampoline diameter: 90 cm
height : 23 - 78 cm
inclination angle: 57 - 78 cm
weights are not included
Exercised body areas: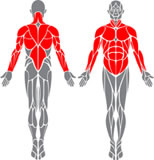 Trampoline for Medicinbal inSPORTline CF060 - Documents to download
Trampoline for Medicinbal inSPORTline CF060 - Product parameters
Trampoline for Medicinbal inSPORTline CF060 - alternatives -
all in stock
Trampoline for Medicinbal inSPORTline CF060 is included in the following categories: