Rowing Machine and Recumbent 2in1 inSPORTline SEG 6601
Rowing machine and recumbent in one, robust frame, handlebar heart rate sensors, variety of functions, high weight limit, suitable for commercial use.
We are sorry, but this product is no longer available.
Recommended accessories
Description
Parameters
Alternatives (8)
Rowing Machine and Recumbent 2in1 inSPORTline SEG 6601
Rowing Machine and Recumbent 2in1 inSPORTline SEG 6601 is a multi-purpose workout equipment that helps you exercise your entire body. The rowing machine is suitable for training especially back and abdominal muscles. This way you'll be able to strengthen the upper half of your body, including the deep core muscles. Even deep core muscle training prevents poor posture and relieves back pains, which are very common these days. The rowing machine and recumbent is also very effective in strengthening your leg muscles, especially glutes. Regular exercising on this trainer will provide you with well-toned thighs and buttocks. The smooth, natural and safe movements of both the rowing and pedalling exercises are easy on your joints and therefore are recommended for people with joint problems.
Rowing Machine and Recumbent 2in1 inSPORTline SEG 6601 uses a high-quality computer to monitor your training and display the measured values. The computer is connected to heart rate sensors in the recumbent handlebars (plus it can be wirelessly connected to a chest belt) so you can monitor your heart rate frequency on the display and adjust the intensity of your training accordingly for maximum training efficiency. The trainer runs quietly, thanks to encased ball bearings and a flywheel propelled by a BeltDrive system. Thanks to the trainer's quiet running, you'll be able to train without bothering the people in your vicinity. You can also watch TV or listen to music. Your complete comfort during exercising is ensured by a comfortable seat and a back rest. Thanks to its reasonable size and simple assembly, Rowing Machine and Recumbent 2in1 inSPORTline SEG 6601 is suitable for home use.
Technical description:
Robust steel frame
Magnetic braking system
4.5 kg flywheel with a 237 mm diameter for steady resistance
Manual resistance control
8 resistance levels
Output: 32 – 106 W
PU rail wheels with encased ball bearings
BeltDrive system for smooth and quiet running
3-piece cranks with encased INT bearings
Heart rate sensors in seat handlebars (for the recumbent)
Heart rate during rowing can be measured wirelessly through a chest strap
Balance pedals with adjustable straps
LCD computer
Computer functions: time, distance, speed, calories, hear rate frequency, total distance scan
Powered by 2 AA batteries
Transport wheels for easy manipulation
Maximum user height: 195 cm
Weight limit: 120 kg
Rail length: 113 cm
Distance of the seat from the ground: 35 cm
Dimensions after assembly: length 189 x width 60 x height 85 cm
Weight: 43 kg
Category HC (EN 957) for home use only
Prolonged warranty

Toned body parts: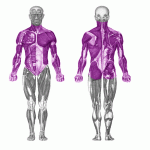 Recommended by
Alois Hadamczik
, coach of Czech ice-hockey team

Rowing Machine and Recumbent 2in1 inSPORTline SEG 6601 - Documents to download
Rowing Machine and Recumbent 2in1 inSPORTline SEG 6601 - Product parameters
Flywheel weight (kg)
4.50 kg
Resistance regulation
Resistance in cardio trainers can be regulated by one of two ways - manual and electronic control. Manual regulation is the cheaper option and works on a simple basis. With a regulation knob, the user sets the resistance manually, usually in the range of 1-12 levels.
Manual
Weight limit (kg)
By observing the weight limit of the product, you significantly increase its service life and prevent it from wearing down prematurely. It is not recommended to exceed this limit.
120 kg
Braking system
Cardio trainers use several types of braking systems.
There are trainers with magnetic, friction, calliper or EMS braking system. The magnetic and EMS systems that work through moving a magnet closer to the flywheel are used most often.
Magnetic
Number of resistance levels
8
HRC
HRC program (Heart Rate Control) is a function that automatically adjusts resistance to keep your heart rate in optimal frequency. This makes exercising more effective, especially if your aim is to burn fats.
no
Compensating for uneven floor
no
Maximum user height
195 cm
Weight
The total weight of the product.
43 kg
Rowing Machine and Recumbent 2in1 inSPORTline SEG 6601 - alternatives -
all in stock
Rowing Machine and Recumbent 2in1 inSPORTline SEG 6601 is included in the following categories: