Push Up Handles inSPORTline Push Up PU400R -
SPECIAL OFFER
Handles for more effective push ups, revolving lower part, anti-slip grips, suitable for home use.
Recommended accessories
Description
Parameters
Alternatives (8)
Push Up Handles inSPORTline Push Up PU400R
Push Up Handles inSPORTline Push Up PU400R are a popular equipment that will help you perform the perfect push ups. The handles are made of light but durable polypropylene material. The grips are coated in an anti-slip layer for a firm and comfortable grip. The grips and the anti-slip underside of the handles ensure maximum stability and allow you to perform precise push ups to the extreme. The difference between push ups with handles and classic push ups is that with the handles, your elbows are at a smaller angle and your chest lowers closer to the ground, which makes the exercise more effective. The lower part of the handle is made of a rotation disc that allows you to perform push ups with wrist rotation. This way, you'll engage different muscle fibres. You can also stand on the handles and twist your body from side to side, which effectively strengthens your abdominal and side muscles, as well as your glutes. Thanks to these excellent attributes, Push Up Handles inSPORTline Push Up PU400R have become a sought-after workout equipment.


Technical description:
Ideal equipment for push ups
Quality manufacture
High durability
Anti-slip grips
Revolving underside
2 pcs per package
Allows you to perform push ups with wrist rotation
You can stand on the handles and twist your body from side to side
Grip diameter: 30 mm
Material: polypropylene
Weight: 1 kg
Weight limit: 120 kg
Suitable for strengthening the upper half of your body, abdominal muscles, side muscles, and glutes
Soft grips for comfort
Exercised body areas: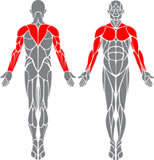 Push Up Handles inSPORTline Push Up PU400R - Product parameters
Push Up Handles inSPORTline Push Up PU400R - alternatives -
all in stock
Push Up Handles inSPORTline Push Up PU400R is included in the following categories: