Booster stand inSPORTline Power Rack PW100 -
SPECIAL OFFER
High stability, robust construction, 24 safety locks, multifunctional horizontal bar, suitable for strengthening the entire body, suitable for bars' length 220 cm.
Recommended accessory
Description
Parameters
Alternatives (3)
Booster stand inSPORTline Power Rack PW100
Fitness stand inSPORTline Power Rack PW100, also known as "fitness cage" is suitable for strengthening with a weightlifting bar in all ways. Sturdy steel construction with a frame profile of 70 x 50 mm is characterized by high stability and a huge load capacity of 350 kg. Construction surface is sprayed by a special powder coating that is resistant to scratches and abrasions. Fitness stand inSPORTline Power Rack PW100 offers a wide range of feasible exercises with maximum freedom during your workout. Any height adjustment of safety locks up to 24 positions allows all users of different height categories to use the fitness cage. Moreover, the fitness stand is designed to suit all types of fitness benches, making it possible to perform more exercises, which include the classic bench press (bench not included). Multifunctional horizontal bar is an integral part of the stand that allows you to perform classical pull-ups or exercises to strengthen the upper half of the body. Due to these properties the fitness stand inSPORTline Power Rack PW100 has become very popular and sought after for home or club use.
Technical description:
fitness stand also known as "fitness cage"
allows you to change dozens of positions and exercises
sturdy steel construction with a frame profile of 70 x 50 mm
high stability
durable finish
suitable for all bars with a length of 220 cm
suitable for all bar diameters
24 safety locks
multifunctional horizontal bar
designed for strengthening the entire body
suitable for all users of different height categories
suitable for all types of benches
dimensions: width 158 cm x length 140 cm x height 215 cm
load capacity: 350 kg
weight: 81 kg
category HA (according to EN957) intended for home use

discs and weightlifting bars are not included
Training sites:
squats with a load
lunges with a load
deadlift
pull-ups

bench press (while using a bench)
By exercise on a fitness stand you strengthen these body parts: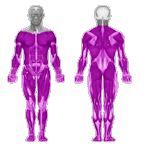 Recommended by Petr Kopriva, the inSPORTline Coach

Booster stand inSPORTline Power Rack PW100 - Documents to download
Booster stand inSPORTline Power Rack PW100 - Product parameters
Height of the structure
215 cm
Maximum height
not limited
Booster stand inSPORTline Power Rack PW100 - alternatives -
all in stock
Booster stand inSPORTline Power Rack PW200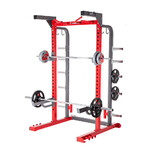 More info
inSPORTline Power rack
More info
Booster stand inSPORTline Cable Column CC700
More info
Booster stand inSPORTline Power Rack PW100 is included in the following categories: