Multigym inSPORTline Bio Force
Multigym Bio Force with more than 100 exercises to strengthen the entire body, durable design, suitable also for home gym.
Recommended accessories
Description
Parameters
Alternatives (8)
Multigym inSPORTline Bio Force
Multigym inSPORTline Bio Force offers more than 100 different exercises with effective strengthening of the whole body. It enables strengthening the arms and back muscles using the upper pulley, strengthening the legs using leg extension and leg curls. Total NitroCell Technology ensures smooth and continuous load changes. It is a technology that uses two pistons filled with nitrogen to create the load. In cooperation with Slide'n'Lock system (sliding and locking), which delivers the highest safety of load locking. This eliminates one of your main concerns, you do not have to get up several times during exercise and complicatedly change the load. Multigym inSPORTline Bio Force is made of high quality steel and the ability to set the backrest ensures maximum comfort during exercise. Bio Force is suitable for home, club and hotel use.
Technical description:
multifunction home gym
the machine is designed for maximum comfort and a pleasant feeling of exercise
focus on the whole body
assistance of more than one hundred exercises
adjustable load from 4.5 to 100 kg
Total NitroCell Technology (TNT) offers continuous and smooth change of load
Slide'n'Lock technology ensures secure load locking
padded seat and backrest
4 adjustable backrest positions
padded footrests
non-slip grips
highly resistant steel wires
robust steel construction
dimensions: length 134 cm x width 165 cm x height 208 cm
maximum weight of an athlete: 136 kg
weight: 79 kg
suitable for club and home use
Exercises options:
UPPER EXTREMITIES MUSCLES 
LOWER EXTREMITIES MUSCLES
squats
alternating lunges back
seated leg extension
deadlift with straight legs
CHEST AND BACK MUSCLES
both-arms pressure while sitting
spreading arms while sitting (butterfly)
pressure on the breasts
both-hands pulling the handle to the chest in a sitting position with the back to the Multigym
pulling down the top rollers with stretched arms while sitting
SHOULDER MUSCLES
two-handed shoulder presses
shrugs
pulling the handle underneath the chin while standing
pulling (rowing) while standing with elbows away from the body
MUSCLES OF THE ABDOMEN AND LOWER BACK PART
shorteners
twisting the trunk while standing
side bending
bending backwards while standing
More exercises and more detailed description can be found in the manual below.
Extended warranty

Exercise on Multigym strengthens these body parts (see picture below):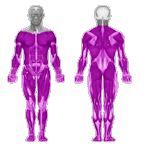 Recommended by Petr Kopriva, the inSPORTline Coach

Recommended by Petr Kopřiva, the inSPORTline coach:
Strengthening your stabilization muscles will help you reduce longterm back pain.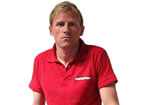 Exercised body areas: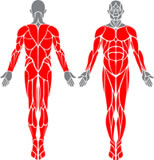 Multigym inSPORTline Bio Force - Documents to download
Multigym inSPORTline Bio Force - Product parameters
Maximum user height
not limited
Maximum amount of weight
100 kg
Butterfly with chest support
no
Pick-up roller (upper)
yes
Pick-up roller (upper)
no
Pick-up sitting with chest support
no
Massaging the breasts sitting
yes
Pressures on the triceps
yes
Biceps pulley - with support
no
Lifting his foot on the trapeze
no
Spreading your (thigh)
no
Multigym inSPORTline Bio Force - alternatives -
all in stock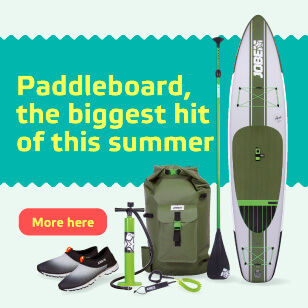 Multigym inSPORTline Bio Force is included in the following categories: