Badminton racquet Wilson Power
Badminton racquet of the Wilson brand, weight 85 g, carbon construction with basalt fibers, medium flection, BLX technology.
We are sorry, but this product is no longer available.
Recommended accessories
Description
Alternatives (8)
Badminton racquet Wilson Power
Badminton racquet Wilson Power is a quality racquet suitable for advanced as well as beginning players. Wilson has been making racquets for many years, which is reflected in the overall processing of badminton racquets or technologies used in the production. Badminton racquet Wilson Power is made of carbon material and basalt fibers, so called BLX technology. BLX technology absorbs unwanted vibrations and provides exceptional feeling during a game. Double-tube of the racquet provides extreme hardness of the frame, which allows higher strings tension. This makes it possible to achieve bigger sweetspot or a cleaner and steeper return. Low weight, good maneuverability, precision balancing and quality strings are properties which rank the badminton racket Wilson Power among popular top racquets.
Technical description:
quality racquet of the Wilson brand
BLX technology
High Tension Frame Engineering technology
head size (cm2 / in2): 353 cm2 / 54.7 in2
weight (unstrung): 85 g
center of gravity (unstrung): 29 cm
length: 670 mm
flection: medium flexible
material composition: carbon / basalt
strings tension (kg; lbs): 9-12 kg; 20-26 lbs
frame profile: 10 Taper Beam
handgrip colour: black
racquet is supplied with strings
suitable for beginning and advanced players
High Tension Frame Engineering
High Tension Frame technology is formed by a double tube, which in the key points of the racquet's head provides extreme hardness and integrity of the frame, thus allowing higher strings tension to achieve larger sweetspot and cleaner/steeper return.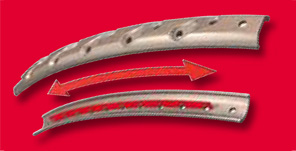 BLX
Basalt fibers filter extreme amplitudes of unwanted vibrations and are associated with other technologies, frame, bushings, grips, to achieve the perfect feeling.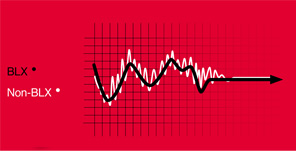 Badminton racquet Wilson Power - alternatives -
all in stock
Badminton racquet Wilson Power is included in the following categories: