IRONMAN Performance Gel Metatarsal Arch Cushions
High-quality cushioning under the heels, absorbs shock, reduces heel pain, suitable for conventional shoes, designed for everyday wear.
We are sorry, but this product is no longer available.
Recommended accessories
Description
Parameters
Alternatives (1)
Video (1)
IRONMAN Performance Gel Metatarsal Arch Cushions
Gel insoles under the heels IRONMAN Performance Gel are suitable for all users looking for shaped cushioning in the area around the heels, but also for all those who suffer heel pain or sore. Cushioned step relieves the spine and joints with each step. Materials used in the production guarantee durability, resistance to perspiration, and prevent calluses formation. With universal size they fit in every shoe. During daily walking heels are particularly stressed, therefore gel insoles under the heels IRONMAN Performance Gel are recommended.
Technical description:
anatomically cushioned system
thermoplastic rubber gel with double density (better shock absorbtion)
absorbs shocks and reduces heel pain
suitable for conventional shoes for everyday walking
anti-slip finish
heel thickness: 9.38 mm
material: TPR gel
can be washed under a lukewarm water
IRONMAN Performance Gel Metatarsal Arch Cushions - Product parameters
Shock absorption cushion
Insoles with a shock absorption cushion at the front of the shoe or at the heel allow for a smooth take-off with either your toes or heel. A cushioned landing is easier on the spine and joints with every step.
yes
Foot arch support
Foot arch supporting insoles position the foot in a natural position and prevent flat feet, as well as related pains. Correct foot arch is important especially for growing children and the proper development of their feet. Anatomically shaped insoles should be also used by those who have problems with their spine or lower limb joints.
no
Shock Absorption
Optimal insole shape provides full support, helps absorb shocks and prevents unnatural pronation. Protation is a problem when your feet shape themselves into an X-shape due to incorrectly pressed insole. This can cause problems with your spine and joints. These insoles have protective feature on the inside edge, usually a plate that doesn't allow your foot to lean inside when you step.
yes
Material
There are many types of materials used for insoles. The main one is polyurethane, which is a very flexible foam that helps absorb shocks and impacts. TPR, aka thermoplastic rubber gel, saves energy and as such ansures great efficiency. PolySorb system provides stability and support for the heel and the foot's arch.
TPR gel
Washable
Insoles are fully removable and can be therefore cleaned with lukewarm water. It is not recommended to machine wash them. It is better to hand wash them, as not to damage the structure and integrity of the insole.
yes
Use
Insoles can be divided into two main categories. One is for sports wear and the other for regular wear. They differ mainly in their ability to absorb impacts and flexibility of material. Sports insoles are made for higher performance and absorb sudden impacts much better. Regular wear insoles are suitable for long-term use, support the correct foot arch position and relieve pain and fatigue.
Regular wear
Heel thickness
While stepping down, the feet of a runner are subjected to 2.5 more weight pressure than normal, which is why a good shock absorbtion is key. The correct step movement while running or walking should go through the heel, that's why it is the area with most shock-absorbing features. Their purpose is to absorb as many impacts as possible, spread out the pressure and rpovide comfort. Optimal heel thickness for regular insoles is around 8-9 mm. Thinner heel means less flexibility and shock absorbtion. Sports insoles should be around 9-10 mm thick.
9.38 mm
IRONMAN Performance Gel Metatarsal Arch Cushions - alternatives -
all in stock
Women's Orthopedic Shoe Insoles Fortuna Gel Pro Active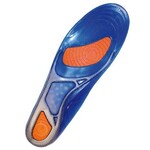 More info
IRONMAN Performance Gel Metatarsal Arch Cushions is included in the following categories: