Outdoor
>
Fun and Games
>
Microsoft XBOX 360 Kinect Nike Fitness CS/EL/HU/SK DVD
(Product code:

99110

)
Microsoft XBOX 360 Kinect Nike Fitness CS/EL/HU/SK DVD -
SPECIAL OFFER
Nike Fitness sports game, English localization, 3+ PEGI rating.
We are sorry, but this product is no longer available.
Recommended accessories
Description
Alternatives (8)
Microsoft XBOX 360 Kinect Nike Fitness CS/EL/HU/SK DVD
Microsoft XBOX 360 Kinect Nike Fitness CS/EL/HU/SK DVD allows you to perform personal training in your familiar home environment - and that regardless of your physical constitution and goals. The game will, through a program that adapts to your progress, provide feedback in real time and high training leadership.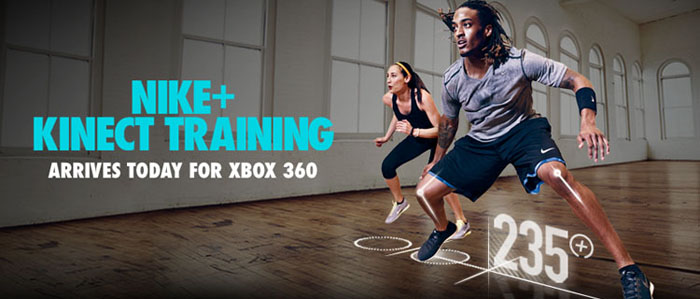 Training exactly for you:
Have evaluation - your personal Nike trainer evaluates your body and the degree of needed physical activity.
Choose your trainer, goals and days - perfect adaptation is allowed by the possibility to choose your own coach, personal goals, and days of the week when you do the exercises.
Keep your personal program - set up a tailored personal four-week training program. Nike + Kinect Training intelligently adjusts your workouts according to the development of your body in order for you to exercise strenuously enough, but at the same time you will still feel fresh and maintain an optimal motivation. That way, you are still encouraged to achieve your goals and overcome yourself.
Use coaching system in real time - personal trainer will lead you and correct you in real time, so you can practice without worrying .
Measure, compare, compete:
Fuel Print - Watch your progress with a Fuel Print score, and unique evaluations of your athletic and fitness performance. Using a scale, optimized for you, you instantly see progress over time.
Subdue a challenge - Get NikeFuel points and participate in global challenges , or challenge your friends to try and beat your score. At the same time you'll see how you're doing compared to other friends, and a global Nike+ network of athletes.
Practice with friends - Work out with a friend from any living room, anywhere on the globe in real time! Use the encouragement of friends, so you can go through your own limits.
Celebrate your successes - Unlock rewards, achieve milestones, improve your personal records and earn praise from peak Nike athletes. Then you can share all these moments on Twitter and Facebook.
Specifications:
Designation: Xbox 360 (Kinect motion sensor required)
Genre: Sports
Localization: English
PEGI Rating: 3 +


Microsoft XBOX 360 Kinect Nike Fitness CS/EL/HU/SK DVD - alternatives -
all in stock
Microsoft XBOX 360 Kinect Nike Fitness CS/EL/HU/SK DVD is included in the following categories: