Wall chin up rack inSPORTline LCR1103 -
SPECIAL OFFER
Wall bar, 3 choices of grips, load capacity 120 kg, easy installation, steel material.
Recommended accessories
Description
Parameters
Alternatives (8)
Wall chin up rack inSPORTline LCR1103
Wall bar inSPORTline LCR1103 is a universal bar for strengthening the back part, abdomen and arms by practicing chin-ups. Thanks to the grip part, 97 cm long, the exercise can be done with the hands raised up differently as required. Wall bar inSPORTline LCR1103 is made of high quality steel with a special coating with increased resistance. Three options of grips ensure the bar to be used for several types of exercises. With maximum load capacity of 120 kg is the bar suitable for a wide range of users. Wall bar inSPORTline LCR1103 is ideal for strengthening using your own weight, suitable for homes and gyms.
Technical description:
wall bar suitable for homes and gyms
minimum space requirements
high strength and load capacity
attachment by two screws on each side (these are not included)
anti-slip intendation on the grip area
3 options of grips
material: stainless steel with special coating
grip area diameter: 25 mm
bar dimensions: length 97 cm x width 49 cm x height 20 cm
maximum load capacity: 120 kg
designed for home use
Extended warranty
By exercise you strenghten these body parts: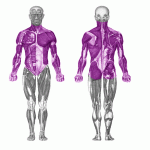 Recommended by Petr Kopriva the inSPORTline Coach.
 Exercises on this machine will increase your fitness stamina. Regular training promotes weight loss and strengthens the cardiovascular system.
Wall chin up rack inSPORTline LCR1103 - Product parameters
Pull-up bar type
Affixed with screws
Wall chin up rack inSPORTline LCR1103 - alternatives -
all in stock
Wall chin up rack inSPORTline LCR1103 is included in the following categories: