Sport's Watch SIGMA PC 10.11
Heart rate monitor with a large display, displays battery's depletion level, 3 training zones.
Recommended accessories
Description
Parameters
Alternatives (1)
Sport's Watch SIGMA PC 10.11
Sports Watch SIGMA PC 10.11 offers versatile functions for fitness, running, cycling and other activities. It's size and design make it suitable for both men and women. The display is large, with three buttons for easy use. The functions include burned calories counter, manually adjusted heart rate zones or average heart rate measurements. Sports Watch SIGMA PC 10.11 will satisfy both recreational and professional athletes.


Technical description:
User-friendly
Modern design
Easy-to-read display
Water resistant (the manufacturer does not recommend using the buttons under water)
Stopwatch
Time
Adjustable heart rate zones
Alarm for 3 training zones: Health zone – burning fat (beginners, wellness), Fitness zone – burning carbs (advanced training), Power zone – performance training
Notification when target values are surpassed/ not reached
Zone indicator
Time menu with 7 functions
Heart rate menu with 6 functions
Optimal assessment and training control
Automatic calculation of ideal training zones
5 language options
Water resistant (real): 1 m (showering, hand washing)
Weight: 43 g
Ergonomic chest strap included
Current and average hear rate measurement with ECG accuracy
Automatic and adjustable training zones
Counting number of burned calories
Time and date, stopwatch
Battery depletion level indicator
Easy-to-read display with large characters
Battery is easy to replace. Watch battery is CR 2032, chest strap battery is CR 2032
How to wear the watch
The signal receiver – the watch is worn on ether the right or the left wrist as a regular watch. The signal transmitter – chest strap is attached to the chest. Optimal distance between the watch and the chest strap is 1 m.
Sport's Watch SIGMA PC 10.11 - Documents to download
Sport's Watch SIGMA PC 10.11 - Product parameters
Sport's Watch SIGMA PC 10.11 - alternatives -
all in stock
-32%
Sports Watch SIGMA PC 22.13 Man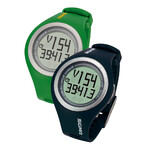 More info
Sport's Watch SIGMA PC 10.11 is included in the following categories: