Sports Watch SIGMA PC 15.11
Heart rate monitor with a large display, counting laps and calories, battery compartment.
Recommended accessories
Description
Parameters
Alternatives (2)
Sports Watch SIGMA PC 15.11
Sports Watch SIGMA PC 15.11 is a multi-purpose heart rate monitor with a number of advanced functions. It is a great accessory for fitness, running, cycling and other activities. It is ideal for all sportsmen or women who want to make their training even more effective. You can use two pre-set target zones or manually set target zone. The 15 functions of this sports watch include counter of burned calories, lap counter, adjustable heart rate zones or average heart rate measurement. This heart rate monitor is suitable for both recreational and professional athletes.


Technical description:
Measures current and average heart rate frequency with ECG accuracy
6 time functions – including date and stopwatch
4 heart rate functions
5 language options
Graphic display of training zones – according to heart rate indicates whether the resistance is optimal
LAP timer
Counting burned calories
Total values (training time, calories) per week/month since reset, memory for one training session
User-friendly menu
On/Off battery compartment, depleted battery indicator
Water resistance (real): 1 m (showering, hand washing)
Weight: 50 g
Chest strap included
Modern design
Back-li display
Easy-to-read display
How to wear the watch
The signal receiver – the watch is worn on ether the right or the left wrist as a regular watch. The signal transmitter – chest strap is attached to the chest. Optimal distance between the watch and the chest strap is 1 m.
Sports Watch SIGMA PC 15.11 - Documents to download
Sports Watch SIGMA PC 15.11 - Product parameters
Sports Watch SIGMA PC 15.11 - alternatives -
all in stock
-32%
Sports Watch SIGMA PC 22.13 Man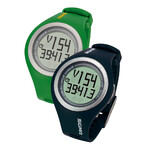 More info
Sport's Watch SIGMA PC 10.11
More info
Sports Watch SIGMA PC 15.11 is included in the following categories: