Sport Tester SIGMA PC 15.11
Multifunctional heart rate monitor with advanced functions, chest belt, large well arranged display and intuitive operation. Water resistant to 30m.
Recommended accessories
Description
Parameters
Alternatives (3)
Sport Tester SIGMA PC 15.11
Sport tester SIGMA PC 15.11 is a multifunctional heart rate monitor with a lot of functions and is suitable for fitness exercises, running, cycling and other sports. Due to the design it is a perfect accessory for all sportsmen who want to make the training more efficient. During the training you can use one of two preset training zones or a manual training zone. The sport tester has 15 functions including calories burned counter, lap counter, adjustable heart rate zones or average heart rate monitoring. SIGMA PC 15.11 will meet the needs of both amateur and professional users.
Technical description:
ECG accurate heart rate monitoring (actual and average heart rate)
6 time functions – including date, stopwatch, countdown timer and alarm
4 heart rate functions
5 languages
Graphical indication of training zones – indicates whether exercise is optimal according to heart rate zone
Lap timer – lap counter
Calories burned counter
Overall training data (time, calories) recorded during last week/month since resetting, memory of training
Simple operation menu
On/Off battery case, weak battery indication
Backlit display, water resistant to 30 meters
Chest belt included (necessary equipment for heart rate monitoring)
Simple and intuitive operation
Progressive design
Well arranged display
How to wear sport tester
The signal receiver is worn on the left or right wrist as usual watch. The signal is received from the chest belt transmitter. The distance between watch and transmitter should not exceed 1 meter.
Sport Tester SIGMA PC 15.11 - Documents to download
Sport Tester SIGMA PC 15.11 - Product parameters
Sport Tester SIGMA PC 15.11 - alternatives -
all in stock
-32%
Sport Tester SIGMA PC 22.13 man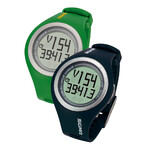 More info
Sport Tester SIGMA PC 10.11
More info
Pulse Meter SIGMA PC 3.11
More info
Sport Tester SIGMA PC 15.11 is included in the following categories: