Rucksack Trimm Gorgany
Sport backpack Trimm with 75 liter pocket and ultra-lightweight construction, weight 1900 g, volume 75 l, side pockets and handles
We are sorry, but this product is no longer available.
Recommended accessories
Description
Parameters
Alternatives (2)
Rucksack Trimm Gorgany
Trimm Gorgany backpack is a modern high-volume outdoor rucksack (backpack) with a volume of 75 l from the Trimm company. The main backpack´s compartment is equipped with several entrances ensuring maximum comfort when handling the contents of the backpack. Moreover, the backpack is supplemented with a separate space and side pockets. The back part of the backpack is made of a special breathable material to prevent sweating and is fitted with hidden aluminum construction which ensures strength even at high loads. With ultra-light construction, adjustable shoulder and hip straps, high resistance, preparation for the drinking regime and high variability of settings is the Trimm Gorgany backpack popular outdoor equipment.
Technical description:
backpack with an ultra-lightweight construction
material: 100% polyester 500D, PU coating, Rip-Stop
internal lightweight aluminum reinforcement for strength in high load
main compartment with multiple entrances for maximum comfort when handling the content
back system with ventilation by a suspended liner
waist belt with a pocket
chest strap, vertically adjustable
bottom pocket for sleeping bag
side pockets
preparation for the drinking regime
handles for ice axe, helmet and other outdoor equipment
weight: 1900 g
volume: 75 l
Rucksack Trimm Gorgany - Product parameters
Weight (g)
The total weight of the product.
1900 g
Ergonomically shaped back
yes
Reflective features
Reflective features exponentially increase the user's visibility. They are suitable especially for winter months that come with mists and early sunset. However, they shouldn't be forgotten even during summer.
Reflective features on clothing items usually take the form of a reflective lettering or stripes that don't clash with regular wear.
yes
Rucksack Trimm Gorgany - alternatives -
all in stock
Backpack FERRINO X.M.T. 60+10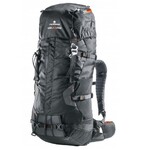 More info
Expedition Backpack DEUTER Aircontact 65+10 2016
More info
Rucksack Trimm Gorgany is included in the following categories: