Women's Sweatshirt Trimm MODENA fleece -
SPECIAL OFFER
Women's sweatshirt with insulation, top-quality elastic material, versatile use, higher collar.
We are sorry, but this product is no longer available.
Recommended accessories
Description
Alternatives (1)
Women's Sweatshirt Trimm MODENA fleece
Light Women's Sweatshirt Trimm Modena is made of elastic fleece material with insulation function and high collar. It is an elegant casual garment suitable for outdoor and sports activities. The light material used with single-side thread offers maximum comfort, flexibility and easy maintenance.


Technical description:
Light sweatshirt made of fleece material
4-direction elastic material
Material: 100% fleece polyester, stretch fleece
Versatile use for both outdoor activities and casual wear
High collar
Feminine cut
Women's Sweatshirt Trimm MODENA fleece - alternatives -
all in stock
Women's Sports Shirt BAS BLACK Inspire Blouse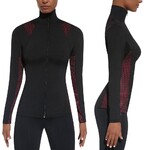 More info
Women's Sweatshirt Trimm MODENA fleece is included in the following categories: