OB-86 inSPORTline Olympic Profi Lifting Bar 220 cm -
SPECIAL OFFER
Professional Olympic weightlifting bar made of high-quality polished stainless steel with a diameter of 50 mm, loading capacity 700 kg, top material with extreme resistance.
Recommended accessory
Description
Parameters
Alternatives (8)
OB-86 inSPORTline Olympic Profi Lifting Bar 220 cm
Professional weightlifting bar inSPORTline Olympic OB-86 Profi due to its size and quality of processing easily ranks among the elite. The bar is made of chrome-plated steel with polished surface. Handles are fitted with non-slip indentations for maximum stability of the bar in hands. Thanks to the length of the bar 220 cm and a diameter of 50 mm, is this weightlifting bar inSPORTline Olympic Profi suitable for strengthening with OLYMPIC discs with 50 mm bore hole. The use of top quality material allows the shaft to be loaded by up to 700 kg weight.
Technical description:
bar made of high quality chromed steel with polished surface
anti-slip indentations on the grips
designed for load discs with a hole of 50 mm (Olympic)
bar length: 220 cm
bar diameter: 50 mm
maximum loading capacity: 700 kg
grip diameter: 32 mm
bar weight: 20 kg
supplied without weights and clamps
By exercise you strengthen these body parts: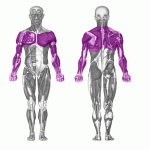 Recommended by Petr Kopriva, the inSPORTline Coach
Regular training promotes weight loss, shapes specific muscle areas and strengthens the cardiovascular system.
OB-86 inSPORTline Olympic Profi Lifting Bar 220 cm - Product parameters
Length of the loading
41 cm
How to secure
Slide the sleeve
OB-86 inSPORTline Olympic Profi Lifting Bar 220 cm - alternatives -
all in stock
OB-86 inSPORTline Olympic Profi Lifting Bar 220 cm is included in the following categories: