WORKER Glacer Scooter 16" and 12" NEW
Children's scooter with 16" and 12" wheels, max 100 kg
We are sorry, but this product is no longer available.
Recommended accessories
Description
Parameters
Alternatives (1)
WORKER Glacer Scooter 16" and 12" NEW
WORKER Vedic meets the highest safety standard, owns certificates in accordance with the strictest european norms (EN-71) of the German TÜV-GS testing lab. Very stable and fast scooter with wheels with aluminium rims and spokes and slike tires for minimum resistance. 16" front wheel and 12" back wheel with quality aluminium front and back brakes (V-brake). The scooter is designed for use on smooth surface and slightly rough surface. The frame and weight capacity is bigger and hadlebar height can be adjusted.

Technical descritpion of WORKER Glacer:

HI-TEN frame - durable lengthened frame made of steel
surface treatment - paint
front/rear aluminium ''V'' BRAKE - aluminium Radius brake for higher efficiency
Radius brake levers
lightweight aluminium Inuoman rims
wide handlebars with bar ends
reflectors on spokes
propstand, rear fender
Wandaking tires: front - 16" x 1.75", back - 12" x 1.75''
min/max handlebar width: 75/80 cm
handlebar width: 57cm
length: 130cm
footboard length: 35cm
max user weight: 100kg
weight: 6 kg
colour: black
Recommended for ages 10 and up
WORKER Glacer Scooter 16" and 12" NEW - Documents to download
WORKER Glacer Scooter 16" and 12" NEW - Product parameters
Brakes
Foot brakes - suitable mainly for children's, stunt (freestyle) and urban kick scooters. The brake is engaged by stepping down on it, causing friction between it's mechanism and the wheel.
V-brakes - suitable for higher weight limits (adults). Easy maintenance and affordable price. The brake is activated by a handlebar lever.
Disc brakes - suitable mainly for sports enthusiasts. These brakes are more costly and harder to maintain.

Hydraulic brakes - instead of a cable they are made of a piston with liquid in it. These brakes offer the highest quality and are the most expansive.
V-brake
Weight limit
The kick scooter's maximum weight limit. It is not recommended to exceed this limit.
For the average weight of 80 kg, 100 kg weight limit is optimal, if you want to use the scooter for recreational purposes only. For heavy terrain and frequent use, you may want to choose a steel frame scooter with the weight limit in the range of 120 - 150 kg.
Stunt scooters' weight limit ranges between 50 and 100 kg.
When picking out a children's scooter, decide according to your child's weight but take into account their eventual growth.
100 kg
Weight
The total weight of the product.
6 kg
Handlebar height
The recommended handlebar height for adults is generally 90 - 120 cm. Suitable handlebar height for children is usually 50 cm and higher (depends on the height of the child). The ideal handlebar height is approximately at the level of the rider's hipbone. If the handlebars are too low, the rider may experience back pain. If the handlebars are too high, steering the scooter becomes difficult.

75-80 cm
WORKER Glacer Scooter 16" and 12" NEW - alternatives -
all in stock
Scooter WORKER Vedic 2013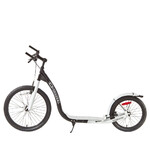 More info
WORKER Glacer Scooter 16" and 12" NEW is included in the following categories: