Lady's sweatshirt Trimm FABRI fleece -
SPECIAL OFFER
Modern ladies functional fleece sweatshirt with zipper, high thermal comfort, versatile use
We are sorry, but this product is no longer available.
Recommended accessories
Description
Alternatives (1)
Lady's sweatshirt Trimm FABRI fleece
Sweatshirt Trimm FABRI fleece is a comfortable ladies sweatshirt for the cooler season with a Jersey / fleece finish. Inner bonded fleece provides good thermal comfort and fit. The neck is then fitted with a zipper.
Technical description:
quality fleece sweatshirt for outdoor use and everyday wear
material: polyester binded fleece, Jersey / Fleece
inner bonded fleece for high thermal comfort
functional zones with higher permeability
zip at the neck
Lady's sweatshirt Trimm FABRI fleece - alternatives -
all in stock
Women's Sports Shirt BAS BLACK Inspire Blouse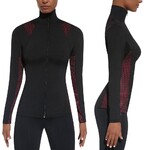 More info
Lady's sweatshirt Trimm FABRI fleece is included in the following categories: