Lifting Bar inSPORTline Olympic - 182 cm OB-72
Olympic weightlifting bar made of high-quality polished stainless steel with a diameter of 50 mm.
Recommended accessories
Description
Parameters
Alternatives (8)
Lifting Bar inSPORTline Olympic - 182 cm OB-72
This weightlifting bar inSPORTline Olympic – straight, 180cm OB-72 due to its size and quality of processing easily ranks among the elite.The bar is made of chrome-plated steel with polished surface. Handles are fitted with non-slip indentations for maximum stability of the bar in hands. Thanks to the length of the bar 180 cm and a diameter of 50 mm, is this weightlifting bar inSPORTline OLYMPIC - straight 180cm OB-72 suitable for strengthening with OLYMPIC discs with 50 mm bore hole.
Technical description:
bar made of high quality chromed steel with polished surface
anti-slip indentations on the grips
designed for load discs with a hole of 50 mm (Olympic)
bar length: 180 cm
bar diameter: 50 mm
grip diameter: 28 mm
bar weight: 18 kg
supplied without weights
supplied without clamps
By exercise you strengthen these body parts: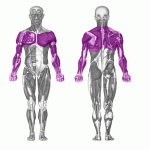 Recommended by Petr Kopriva, the inSPORTline Coach
Regular training promotes weight loss, shapes specific muscle areas and strengthens the cardiovascular system.
Lifting Bar inSPORTline Olympic - 182 cm OB-72 - Product parameters
Length of the loading
33 cm
How to secure
Slide the sleeve
Lifting Bar inSPORTline Olympic - 182 cm OB-72 - alternatives -
all in stock
Lifting Bar inSPORTline Olympic - 182 cm OB-72 is included in the following categories: