Bracelet Trion: Z Dual
Bracelet TRION: Z Dual balances blood pressure, reduces pain in muscles, joints, teeth, and acts positively against fatigue, stress and depression
Recommended accessories
Description
Parameters
Alternatives (2)
Bracelet Trion: Z Dual
Trion: Z Lite bracelet combines patented ion-magnetic therapy in a stylish bracelet. A pair of identical loops emiting negative ions and a pair of ANSPO patented therapeutic magnets. Bracelet TRION: Z Dual balances blood pressure, reduces menstrual pain, pain in muscles, joints, teeth and acts positively against fatigue, stress and depression.
TRION: Z Dual can not be used in patients with pacemakers and pregnant women.
Technical description:
Increases blood oxygenation level
Reduces fatigue and speeds up regeneration
Double loop of Mineon Health Fibre, material producing negative ions
2 x 1.000 Gause with ANSPO patented technology
More than 20 stylish colour combinations
Sizes: S - 16cm, M - 18 cm, L - 20 cm, XL - 22 cm
Bracelet Trion: Z Dual - Product parameters
Type of jewellery
Where you wear your magnetic accessories depends entirely on your taste and preference. Placement has no effect on function.
Bracelet
Number of magnets
The number of magnets can differ, depending on the bracelet. Each magnet has the strength of roughly 1000 gauss. However, the strengths of individual magnets cannot be added up. The magnets instead create a magnetic field with the strength of 1000 gauss. The number of magnets is therefore not as significant as it may seem.
2 pcs
Magnet type
Magnet types may vary. Here, you'll come across the two main types - neodymium and ASPO ferrite magnets. Neomydium magnets are made by our company and are distiguished by anti-inflamatory properties, relieving pain, improving blood oxygenation, preventing blood clots and helping in case of insomnia.
ANSPO
Material
If you prefer elegance and simplicity, noble metals are the best choice for you. They include tungsten, an extremely hard material that is safe for human health and has long-lasting polished surface that doesn't scratch easily. Then there is titanium, which is one of the hardest metals, suitable for people with allergies and very resistant to mechanical damage. The last metal is surgical steel that is known for its anti-allergic properties. It is also durable, though less so. It is recommended for customers who are looking for a lower price. If you prefer more sporty design, the ideal materials for you are textile and silicone. They look simple, but are very durable. These materials are especially suitable for water sports and extreme weather conditions.
Textile
Weight
The weight of a bracelet or a necklace is determined mainly by the size and type of the product. Bracelets are usually lighter than necklaces. However, the weight difference between separate products is not so significant as to cause differences in comfort.
12 g
Gift box
A gift box will come in handy, especially if you want to gift the magnetic jewellery to someone else, but also if you want an elegant way to keep it for yourself.
no
Bracelet Trion: Z Dual - alternatives -
all in stock
Bracelet Trion: Z Active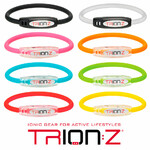 More info
-40%
Necklace TRION:Z Necklace
More info
Bracelet Trion: Z Dual is included in the following categories: