kalhoty Trimm EXCEL softshell -
SPECIAL OFFER
Functional mens ski pants, removable braces, elastic cuff around the boots
We are sorry, but this product is no longer available.
Description
Parameters
Alternatives (1)
kalhoty Trimm EXCEL softshell
Mens pants EXCEL softshell are functional ski pants made of flexible materials with removable braces. Pants are fitted with flexible inner cuffs around the boots to provide protection against penetration of snow. The pants are insulated by fleece and are thus suitable for skiing, snowboarding and other sporting activities in winter.
Technical description:
highly functional elastic material
material: 100% PES, Triguard softshell 8000/5000
removable elastic braces
ends of the legs can be undone by a zipper to 3/4 of length for easier getting into
elastic insulated material suitable for skiing, snowboarding other winter activities
water-resistant zippers
colour: black
kalhoty Trimm EXCEL softshell - Product parameters
kalhoty Trimm EXCEL softshell - alternatives -
all in stock
-42%
Kalhoty Trimm ORBIT softshell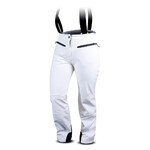 More info
kalhoty Trimm EXCEL softshell is included in the following categories: