Junior functional T-shirt Brubeck THERMO long-sleeve - for youngest kids -
SPECIAL OFFER
Quality children's functional T-shirt from laminated fabric for cooler weather and winter.
We are sorry, but this product is no longer available.
Recommended accessories
Description
Parameters
Alternatives (3)
Video (1)
Junior functional T-shirt Brubeck THERMO long-sleeve - for youngest kids
Children's functional T-shirt with long sleeves Brubeck THERMO is made of thick layer of fabric and is ideal for winter and cold weather. With seamless technology, is the bottom layer very comfortable and there is no scuffing or scratching of children skin. Unique two-layer structure allows perfect perspiration removal and keeps optimal body temperature even in cold weather. Sophisticated fabric structure provides comfort during workouts and physically demanding activities. High synergistic properties contribute to the achievement of adequate level of body insulation and provide a perfect microclimate conditions. Innovative design combined with flat seams, precisely woven material with the ability to adapt perfectly to the children's body shape and excellent thermo-insulation properties guarantee genuine comfort and user satisfaction.
Graphical representation of thermo-active properties:
A - SkinB - Thermo Body Guard ™ inner layerC - Thermo Body Guard ™ outer layer1 - The release of sweat outside2 - Thermal insulation3 - Maintaining an optimal body temperature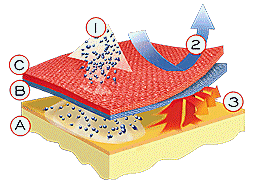 Technical description:
High-quality two-layer tricot
Excellent thermo-insulation properties
Perspiration removal to the outside
Flexible and adaptable material
Flat seams to prevent scratching
Suitable for all even the most demanding sports in colder weather and winter
Suitable for everyday wear
Material: 56% Polyamide, 40% Polypropylene, 4% Elastane
Colour: black, blue, pink
Junior functional T-shirt Brubeck THERMO long-sleeve - for youngest kids - Product parameters
Women's/men's/children's
Children's
Junior functional T-shirt Brubeck THERMO long-sleeve - for youngest kids - alternatives -
all in stock
-31%
Long Sleeve T-shirt Insecta
More info
Women's Thermal Long Sleeve T-Shirt Wisser
More info
Men's Thermal Long Sleeve T-Shirt Wisser
More info
Junior functional T-shirt Brubeck THERMO long-sleeve - for youngest kids is included in the following categories: