Cycling Trainer TechnoGym MyCycling
Magnetic resistance trainer compatible with app, perfect cycling simulation, top class craftsmanship, chainring-based resistance, Android and iOS support.
We are sorry, but this product is no longer available.
Recommended accessories
Description
Parameters
Alternatives (5)
Video (1)
Cycling Trainer TechnoGym MyCycling
Perfect for cycling enthusiasts, the Cycling Trainer TechnoGym MyCycling features a magnetic brake system and chainring-based resistance. The aluminum frame was made through the die casting process, thus ensuring durability and a long service life. Unlike other cycling trainers, the Cycling Trainer TechnoGym MyCycling mounts directly on the rear structure of the bike (the so-called triangle), thus providing excellent stability and ensuring even energy distribution. Therefore, it simulates road riding. The Cycling Trainer TechnoGym MyCycling is suitable for bikes with a rear structure of 130, 135 and 142mm.
You can connect the Cycling Trainer TechnoGym MyCycling to your smart device via Bluetooth and follow your training in the MyCycling and Zwift apps. This allows you to become your own coach. The app not only allows you to track your time, revolutions per minute (rpm), performance and heart rate, but also set your own training goal. Heart rate is measured via a chest strap (ANT+ technology). Moreover, the app also allows you to choose from a variety of real routes.
The Cycling Trainer TechnoGym MyCycling features the TNT (Technogym Neuromuscular Training) system, which is the only system in the world that contains the Smart Coach – an app which contains personalized programs and methods created in collaboration with the world's top athletes, coaches and psychologists. During the one-hour, tailor-made training, focus on pedaling technique and effectiveness.
Key features:
Excellent cycling trainer
Reliable magnetic brake system
Extremely durable frame made of pressure die cast aluminum
Compatible with MyCycling and Zwift apps
Allows you to ride on real routes
Accurate riding simulation
Performance measuring (WATT) with accuracy of +-1%
Maximum wattage: up to 2,100W
Resistance transferred from rear chainring and chain
Suitable for bikes with rear structure of 130, 135 and 142mm
Pictured smartphone is not included
TechnoGym MyCycling app requirements:
Apple iOS: smartphones and tablets with iOS 9.0 and higher
Android: smartphones and tablets with 4.4 (KitKat) and higher
Before purchasing, make sure your device is compatible with app

Technical description:
| | |
| --- | --- |
| Flywheel weight | 5kg |
| Brake system | Magnetic |
| Maximum wattage | 2,100W |
| Signal transfer | Bluetooth, ANT+ |
| Recommended rear structure size | 130mm, 135mm, 142mm |
| Dimensions | 57 x 83cm |
| Frame material | Aluminum (die casting) |
| Total weight | 18kg |
Spinning bikes help you focus on these areas: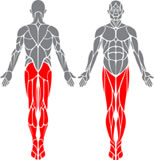 Cycling Trainer TechnoGym MyCycling - Product parameters
Flywheel weight (kg)
5 kg
Resistance regulation
Resistance in cardio trainers can be regulated by one of two ways - manual and electronic control. Manual regulation is the cheaper option and works on a simple basis. With a regulation knob, the user sets the resistance manually, usually in the range of 1-12 levels.
Manual
Maximum user height
No limit
Braking system
Cardio trainers use several types of braking systems.
There are trainers with magnetic, friction, calliper or EMS braking system. The magnetic and EMS systems that work through moving a magnet closer to the flywheel are used most often.
Magnetic
Dimensions when fully assembled
length x width x height
57 x 83 cm
Weight
The total weight of the product.
18 kg
Cycling Trainer TechnoGym MyCycling - alternatives -
all in stock
Cycling Trainer TechnoGym MyCycling is included in the following categories: