Kids bike KAWASAKI Shrimp 12" 2012
Child bicycle KAWASAKI Dirt with16´´
Recommended accessories
Description
Parameters
Alternatives (3)
Kids bike KAWASAKI Shrimp 12" 2012
Child bicycle KAWASAKI Dirt with16´´ wheels and back fork springing is the original replica of KAWASAKI crosscountry motorcycle. KAWASAKI Dirt 16´´ bicycle is suitable for children 5-8 years old.
KAWASAKI design
BMX construction
steel frame
aluminious rims
16´´wheels filled with air
front V-brake
rear V-brake
supplementary stabilizing little wheels
safety chain covering
colour: green KAWASAKI
suitable for children 5-8years old
Our tips - other useful information:
Don't know how to choose the correct bike size or type? You'll learn more in our guide.
Kids bike KAWASAKI Shrimp 12" 2012 - Product parameters
Components set
Basic components set
Additional training wheels
yes
Protective Case on the Chain
yes
Kids bike KAWASAKI Shrimp 12" 2012 - alternatives -
all in stock
Dětské kolo Galaxy Fenix 12" - model 2017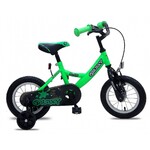 More info
Kid's bike Reactor Puppi 12"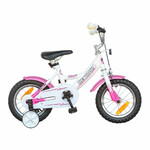 More info
KAWASAKI Moto Kids Bike 12" - model 2014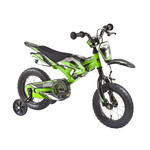 More info
Kids bike KAWASAKI Shrimp 12" 2012 is included in the following categories: