inSPORTline VibroGym Alex Vibration Machine
3D vibrations, for continuous long-term use, 2 control panels, resistance bands, robust frame, quiet running.
Recommended accessories
Description
Parameters
Video (1)
inSPORTline VibroGym Alex Vibration Machine
Vibration Machine inSPORTline Alex offers an ideal way to shape your figure, increase the mobility of your joints, relax and relieve stress. VibroGym inSPORTline Alex works on the basis of vibrations that cause your muscles to contract reflexively, making exercising more effective. Exercising this way is not remotely time-consuming, all you need to do is stand on the machine with your knees slightly bent for 5 minutes and the results will quickly manifest. You can exercise your entire body – all available exercises are described in detail in the attached manual. You can also exercise your arms and legs with two rubber resistance bands attached to the lower edge of the machine. Exercising on the Vibration Machine inSPORTline Alex is effective, safe and not remotely time-consuming. The machine is suitable for everyday club and home use.
Main advantages:
modern design
3D vibrations for highly effective exercising of all muscle areas
helps to quickly and effectively shape your figure and lose weight
thanks to the vibrations, exercises will be up to three times more effective
special massage deck with adhesive grooving stimulates blood circulation, relieves the tension in your muscles and massages your feet, hands, backside and back
helps you quickly recover and regenerate after a physical strain, sports activity or an exercise
the machine is especially suitable for the initial or last phase of training
it can also be used to help relieve rheumatism and other problems with your bones or joints (only after consulting your GP though)
stimulates your blood circulation
effectively helps you relieve joint and muscle pain and stiffness
improves balance and coordination
effectively helps you fight cellulitis
helps relieve stress
increases production of the growth hormone
Technical description:
3D+ vibrations for highly effective exercising of all muscle areas
motor output: 400 W
vibration frequency: 16-60 Hz
smooth increase by 1 Hz
more than 50 vibration levels
amplitude: 0.5-2.0 mm
3 LED displays
2 control panels
remote control so you can control the machine from any exercise position
18 pre-set exercise programs
3 user programs
time setting: 0-10 minutes
quick button for changing frequencies: 25, 35 and 45 Hz
resistance bands for maximum exercise variability
smooth and quiet running
vibration deck dimensions: l72.5 x w48 cm
dimensions: length 77 x width 76 x height 148 cm
weight limit: 120 kg
weight: 48 kg
category HB (EN 957) suitable for club and home use
Extended warranty

Toned body parts: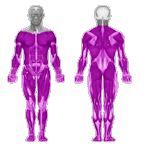 inSPORTline VibroGym Alex Vibration Machine - Documents to download
inSPORTline VibroGym Alex Vibration Machine - Product parameters
Vibrating area size
72,5 x 48 cm
Vibration frequency
15 - 60
Number of vibration speeds
45
Compensating for uneven floor
no
Computer Control
Integrated + remote
Dimensions when fully assembled
77 x 76 x 148
Usage category
Club / commercial use
inSPORTline VibroGym Alex Vibration Machine is included in the following categories: