Table tennis table Butterfly Petr Korbel Outdoor
NEW 2010! Ping-pong table for outdoor use Butterfly Petr Korbel Outdoor, official ITTF size
We are sorry, but this product is no longer available.
Description
Parameters
Alternatives (3)
Table tennis table Butterfly Petr Korbel Outdoor
NEW 2010! This table tennis table from the world's leading manufacturer Buttefly Petr Korbel Outdoor is a popular table for exterior use in unsheltered areas and outdoors. The table Butterfly Petr Korbel Outdoor is designed for recreational use in all recreational facilities, campgrounds, camps and at home. The table top is made of high quality material MELAMIN, which perfectly resists outdoor weather and sunshine. Thanks to the latest manufacturing technology the table top ensures uniform ball jump at all sites while maintaining high jump. Construction of the table is made of very durable metal and is equipped with a set of large wheels for easy transport and handling. The table can also be folded into a vertical position where it does not occupy much space and can be stored like this as well. After folding one half of the table at an angle of 90 degrees it allows individual training. The Butterfly table comes with a net in blue and green colour.
Technical description:
Table from the world's leading manufacturer Butterfly approved by the International Table Tennis Federation (ITTF)
High-quality tabletop of material MELAMIN ensures stable and high ball jump while playing
Frame and tabletop weather-, rain- and sun- resistant
Construction of high-quality steel
The table can be folded at a right angle for individuals training
Dimensions of compound table: 184 x 66 x 186 cm
Table dimensions when assembled: length 274 x width 152.5 x height 76 cm
Weight: 60 kg
Wheels diameter: 125 mm
High-quality net is included
Colour: blue, green (the official colours of the ITTF)
Table tennis table Butterfly Petr Korbel Outdoor - Documents to download
Table tennis table Butterfly Petr Korbel Outdoor - Product parameters
Weight
The total weight of the product.
60 kg
Transport wheels
Transport wheels will come in handy if you plan on moving the product or taking it to storage a lot.
yes
Table tennis table Butterfly Petr Korbel Outdoor - alternatives -
all in stock
Table Tennis Table inSPORTline Rokito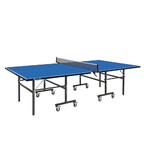 More info
inSPORTline Sunny 700 table tennis table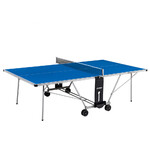 More info
InSPORTline OUTDOOR 100 Table Tennis Table
More info
Table tennis table Butterfly Petr Korbel Outdoor is included in the following categories: