AB machine Body-Solid SAM-900G/2 -
SPECIAL OFFER
In just a short time, your body will be as well built and well proporitoned as the machine itself
Recommended accessories
Description
Alternatives (8)
AB machine Body-Solid SAM-900G/2
SIP-1400G/2 REVIEWS CONTENT:
Lean back on the extra thick, custom sewn, double stitched pads and feel the adrenaline flow. Place your hands on the multi-position grips, and as you look up to the ceiling a 35" angle, you are ready for the upper chest workout of yor life. This Incline Press Machine is built for the most brutal of workouts. The 2"x 4" mainframe was structurally designed to resist torsional flex and wear. With this machine your upper Pectorals and Triceps are in for a serious workout. The ergonomically accurate motion is guided by oil-lite bronze bushigs that allow for a smooth, comfortable workout experience. In just a short time, your body will be as well built and well proporitoned as the machine itself. Includes 210Lb. Weigth Stack (95kg) & Shroud.
Technical description:
Dimensions: 50"W x 43"L x 62"H (127cm x 109cm x 158cm)
Optional:310Lb. Weight Stack (141kg):410Lb. Weight Stack(186kg)
Recommended by Petr Kopřiva, the inSPORTline coach:
Strengthening your stabilization muscles will help you reduce longterm back pain.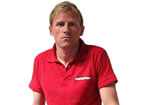 Exercised body areas: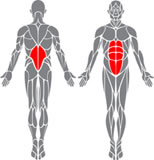 AB machine Body-Solid SAM-900G/2 - alternatives -
all in stock
AB machine Body-Solid SAM-900G/2 is included in the following categories: