Pec Dec machine CPD800
The most effective strengthening of pectoral muscles and upper body muscles
Recommended accessories
Description
Alternatives (1)
Pec Dec machine CPD800
This fitness machine Pec Dec Machine in the series of Hydraulic Line machines is part of a special round training. The machine is designed to strengthen with maximum efficiency and safety. The whole series of Hydraulic Line machines operates on the principle of oil dampers, which provide stable resistance throughout the range of exercises. The Pec Dec machine is specially developed for strengthening the upper body - pecs, biceps, triceps muscle and abdominal area without significant stress on the joints. These properties make it highly suitable recovery component. Robust and ergonomic shoulders of the machine with soft padding ensure a professional and highly effective workout. The high standard is also provided by a good seat with a high backrest, padded arm rests and a high quality non-slip grips for hands with a special rubber layer. The whole Pec Dec Machine is then provided with a coating with improved resistance to scratching and peeling. Adjustment of difficulty of the strengthening is then allowed by hydraulic damper with 6 adjustable levels of resistance.
Technical description:
zero resistance at the beginning of the traction ensures easier start of the movement
6 adjustable resistance levels
fixed base for maximum stability during exercise
robust frame design
coating with improved resistence to scratching and peeling
robust handles with padded arm rests and non-slip grips
stable resistance of the hydraulic dampers in full range of movement
minimal burden on joints
suitable for the purpose of recovery and intensive workout
safe exercise even without professional supervision
dimensions: L 86 x W 113 x H 122 cm
weight: 49 kg
upholstery colour: orange (pumpkin)
designed for commercial and private use
Recommended by Petr Kopřiva, the inSPORTline coach:
Strengthening your stabilization muscles will help you reduce longterm back pain.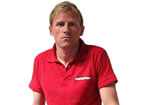 Exercised body areas: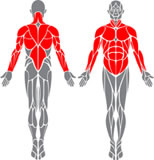 Pec Dec machine CPD800 - alternatives -
all in stock
Chest Press Machine CPB300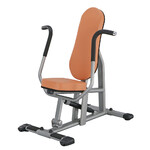 More info
Pec Dec machine CPD800 is included in the following categories: