Treadmill TechnoGym Excite Run 1000 LED
Soft and adaptable running area, quiet running, ergonomically placed display, movement detection for safe workout, lever for quick incline and speed adjustment, high top speed.
We are sorry, but this product is no longer available.
Recommended accessories
Description
Parameters
Alternatives (4)
Video (1)
Treadmill TechnoGym Excite Run 1000 LED
The Treadmill TechnoGym Excite Run 1000 LED is a quiet treadmill with a soft, adaptable running area which allows you to move naturally on the running area. Its display is at such an angle that allows the user of any height to maintain their correct body posture while looking at it. The specially designed levers for adjusting the speed and incline of the running area provide additional comfort; their placement allows the user to use them even during an intensive workout, which – as far as this machine is concerned – means running at the speed of up to 27 km/h. Therefore, you will surely appreciate the fact that the levers can be easily operated. However, even at the highest speed, the Treadmill TechnoGym Excite Run 1000 LED remains extremely quiet.
Moreover, the Treadmill TechnoGym Excite Run 1000 LED also features two safety mechanisms. The InMotion system warns the user (a red light lights up) not to step onto the treadmill until the belt has stopped. The user needs to wait for a green light to step onto the treadmill. The Runner Detection system automatically brings the belt to a stop when the treadmill is not in use. These systems will make you feel safe during the workout.
The soft running area automatically adapts to your running dynamics, thus providing perfect workout conditions. Moreover, the Treadmill TechnoGym Excite Run 1000 LED also has a number of functions such as 6 preset profile programs, 9 adjustable user programs, a CPR program that keeps you in the preset heart rate zone and a special "weight loss" program. All of the above, together with the sophisticated design allow for a professional workout where all you have to focus on is your performance.
Key features:
Quiet running
Soft and adjustable running area
InMotion system that prevents user from stepping onto treadmill when belt is still running
Runner Detection system that automatically brings belt to a stop when treadmill is not in use
High top speed and maximum incline angle
Ergonomic display angle
LED display shows: time, calories burned, distance, incline, heart rate, speed, graphic profile image
23 functions: quick start, target value (time, distance, calories), CPR (HRC function), 6 preset programs, 9 user programs, speed and training zone adjustment, "weight loss" program
Chest strap is not included - compatible chest straps work with 5kHz frequency, e.g Polar T31
Technical description:
| | |
| --- | --- |
| Engine power | 8 HP |
| Running area dimensions | 152 x 52cm |
| Running area incline | electronic |
| Number on incline positions | 18 |
| Speed | 0.8 - 27 km/h |
| Total number of programs | 23 |
| Preset programs | 6 |
| User programs | 9 |
| HRC program | yes |
| Manual program | yes |
| Heart rate monitor | yes |
| Bottle holder | yes |
| Tablet holder | no |
| Transportation wheels | yes |
| Uneven surface adjustment | yes |
| Suspension | TechnoGym |
| Safety brake | yes |
| HR belt receiver | yes |
| HR belt included | no |
| Audio input | no |
| Foldable | no |
| Overall dimensions | Height-155cm x width-96cm x length-219cm |
| Folded dimensions | X |
| Weight limit | 220kg |
| Weight | 195kg |
| Power source | 220V |
| Category | not specified |
| Use | commercial, club, home |
Treadmills help you focus on these areas: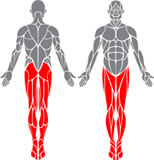 Treadmill TechnoGym Excite Run 1000 LED - Documents to download
Treadmill TechnoGym Excite Run 1000 LED - Product parameters
Motor output
The higher the output, the higher the user weight limit. Treadmills with high output can also move faster.
8 HP
Deck inclination
Running deck inclination is one of the most important aspects of a treadmill. The outmost majority of motorized treadmills feature electronic inclination. Cheaper models either have fixed or manually adjusted inclination.
electronic
Maximum elevation
10.29° (18 %)
Number of elevation levels
18 levels
Running deck length
Generally speaking, the longer the running deck, the more comfortable exercise the treadmill provides. For taller people, minimum recommended running deck length is 140 cm. Running decks on professional treadmills are suitable for everyone.
152 cm
Total number of programs
The total numner of pre-set and user programs, manual mode and HRC program (if applicable).
23
Number of preset programs
6
User programs
User programs are programs that can be set according to the requirements of the user and saved into the memory of the treadmill's console.
9
Heart rate frequency sensors
yes
Tablet holder
A tablet holder doesn't have to be used only for a tablet. You use it to prop up a book, magazine or a mobile phone.
no
System for adjusting to uneven surface
yes
Safety key
A necessary part of every treadmill - a magnetic safety with a clip attached to your clothing that, when pulled out, immediately stops the treadmill.
yes
Audio jack
If the treadmill features an audio jack (3.5 mm), you can connect it to your phone and replay music through inbuilt loudspeakers.
no
Height when unfolded
155.10 cm
Width when unfolded
96 cm
Length when unfolded
219 cm
Treadmill type
Treadmills without motor are moved via the force created by the user's legs and subsequent inertia. Motorized treadmills feature and electric motor that moves the running deck. On these treadmills, you can adjust the running speed at will.
Motorized
Weight
Generally speaking, the heavier the treadmill, the more robust it is and the longer its service life. The weight of professional treadmills can far exceed 100 kg.
195 kg
Power Source
Most treadmills are powered via 220/230V outlet. Treadmills without motors only require batteries for their control panels.
220V
Intended use
Home treadmills are suitable for home use only. The higher-quality club treadmills can be used in hotels, school gyms, public gyms, etc. Commercial treadmills can be used anywhere, mainly in professional commercial fitness centres.
club, home, commercial
Technology
Treadmills inSPORTline inCondi feature a technology that connects them to smart devices via an app. This way, you can experience training on a whole new level. You can also save your results and follow your long-term statistics.
TechnoGym
Treadmill TechnoGym Excite Run 1000 LED - alternatives -
all in stock
Treadmill TechnoGym Excite Run 1000 LED is included in the following categories: