Spinning Bike TechnoGym Group Cycle CONNECT
Revolutionary professional spinning bike, top quality, detailed biometrics, full compatibility with OS Android and Apple iOS.
Recommended accessories
Description
Parameters
Alternatives (3)
Spinning Bike TechnoGym Group Cycle CONNECT
Spinning Bike TechnoGym Group Cycle CONNECT is a professional trainer suitable for both personal exercising and group training. At the same time, it is also the first indoor spinning bike that can monitor and evaluate your entire training progress and allow you to improve your performance through an all-engrossing experience. The trainer combines unique design, high performance and user-friendly controls. There is a regulation knob for adjusting resistance in a 20-level range. The adjustment is very easy, all you need to do is turn the knob by 45° every time you want to change the resistance setting. The set resistance level is displayed on an easy-to-read touch screen. Other displayed data include watts, cadence, heart rate and other information. The display is not powered by batteries, but the energy created during exercise. There is a LED backlight that makes the data on screen more visible even in badly lit spaces. The control panel measures all data with a +- 2% accuracy. The Wi-Fi-compatible control panel can be connected to your smart device through Bluetooth, QR code, NFC technology, MyWelness key or TechnoGym key and save and monitor your training data. The seat and handlebars of TechnoGym Cycle CONNECT can be adjusted both vertically and horizontally to almost 40 levels. On the inside of the spinning bike, there is a Poly-V belt made of Kevlar fibres, ensuring reliability and a long service life. Resistance adjustment is possible through a magnetic braking system made of neodymium, the strongest kind of permanent magnet. The whole frame has a special humidity and corrosion resistant coating. The electronics are completely sealed, making the spinning bike durable and extremely safe.


Spinning Bike TechnoGym Group Cycle CONNECT is fully compatible with the Android and iOS operating systems.


Technical description:
Professional spinning bike in stylish design
Monitors your entire training
An easy-to-read backlit LED display that is visible even in low light
Accuracy of measured data +- 2%
Fully compatible with iOS and Android
Can be connected to a smart device via QR code, NFC, MyWellness or Technogym code
Record all data through Wi-Fi
Neodymium magnetic braking system
Humidity and corrosion resistant coating
Electronics is protected from humidity and damage
Horizontally and vertically adjustable seat and handlebars (40 levels)
Highly durable Kevlar belt
20 smoothly adjusted resistance levels
Transport wheels
System to compensate for uneven floor
Comfortable unisex Velo seat
Flywheel weight: 17.4 kg
User height: 140 – 210 cm
Weight limit: 160 kg
Dimensions: L117 x W59 x H105 cm
Weight: 67 kg
Spinning Bike TechnoGym Group Cycle CONNECT - Product parameters
Flywheel weight (kg)
17.40 kg
Resistance regulation
Manual
Maximum user height
210 cm
Horizontal/vertical handlebar adjustment
Yes / Yes
Horizontal/vertical seat adjustment
Yes / Yes
Handlebar heart rate sensors
no
Compensating for uneven floor
yes
Dimensions when fully assembled
117 x 59 x 105
Spinning Bike TechnoGym Group Cycle CONNECT - alternatives -
all in stock
Spinning Bike inSPORTline Atana
More info
Spinning Bike inSPORTline Omegus
More info
-37%
Spinning Bike inSPORTline Epsilon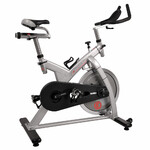 More info
Spinning Bike TechnoGym Group Cycle CONNECT is included in the following categories: