inSPORTline Lotos Vibration Machine
Vertical vibrations, exercise time and vibration intensity setting, larger exercise deck, grips close together, quiet running.
Recommended accessories
Description
Parameters
Alternatives (1)
inSPORTline Lotos Vibration Machine
Vibration Machine inSPORTline Lotos offers an ideal way to shape your figure. Its function is based on vibrations that cause your muscles to flex reflexively, making exercising more intense. All you need to get an immediate result are 5 minutes of standing on the machine with your knees slightly bent. Vibration machine inSPORTline Lotos will help you exercise your body through special exercises. All exercises are described in detail in the manual. The machine also helps you quickly and effectively shape your figure and lose weight. Exercising with Vibration Machine inSPORTline Lotos is safe, effective and not the least time consuming, which makes it a very popular and versatile device for home use.
Main advantages:
modern design
vertical vibrations for effectively exercising you muscles
helps you quickly and effectively shape your figure and lose weight
thanks to the vibrations, exercises will be up to three times more effective
special massage pad with adhesive grooving stimulates blood circulation, relieves the tension in your muscles and massages your feet, hands, thighs or back
helps you quickly recover and regenerate after a physical strain, sports activity or an exercise
the machine is especially suitable for the initial or last phase of training
it can also be used to help relieve rheumatism and other problems with your bones or joints (only after consulting your GP though)
stimulates your blood circulation
improves balance and coordination
effectively helps you fight cellulitis
helps relieve stress
increases production of the growth hormone
Technical description:
vertical vibrations
motor output: 300 W
vibrations frequency: 15–27,25 Hz
50 vibration levels
amplitude: 6-8 mm
LED display
computer displays: program, time and speed
the surface is made of rubber pad with adhesive grooving
exercise time and vibration intensity settings
exercise instructions part of the manual
vibration deck dimensions: l65 x w62 cm
dimensions: l67 x w64 x h140 cm
weight limit: 120 kg
weight: 30 kg
suitable for home use (EN 957)
Extended 5-year warranty.
inSPORTline Lotos Vibration Machine - Documents to download
inSPORTline Lotos Vibration Machine - Product parameters
Vibrating area size
65 x 62 cm
Vibration frequency
5,86 - 13,7 Hz
Number of vibration speeds
50
Compensating for uneven floor
yes
Computer Control
Integrated
Dimensions when fully assembled
67 x 64 x 140
inSPORTline Lotos Vibration Machine - alternatives -
all in stock
-40%
inSPORTline Lilly Vibration Machine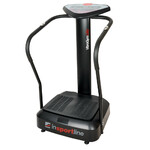 More info
inSPORTline Lotos Vibration Machine is included in the following categories: