Women's Inline Skates FILA Mizar 84 Lady
Lightweight, highly comfortable, aluminum chassis, suitable for both beginners and advanced skaters, breathable material, Fila Air Flow technology.
We are sorry, but this product is no longer available.
Recommended accessories
Description
Parameters
Alternatives (1)
Women's Inline Skates FILA Mizar 84 Lady
The Women's Inline Skates FILA Mizar 84 Lady are lightweight and highly comfortable women's fitness inline skates. The 84mm/83A wheels are intended for a smooth ride on a high quality surface while the ABEC 5 bearings provide precision and long spin of the wheels. The Women's Inline Skates FILA Mizar 84 Lady ensure stability and safety during ride. They feature the standard lever, laces and Velcro band closure. The shoe is embedded in an aluminum frame which is very firm and transmits the skater's power into the push-off better than other frames. Thanks to the breathable material and the Fila Air Flow technology, the Women's Inline Skates FILA Mizar 84 Lady provide maximum comfort during ride.
Technical description:
Skates made of lightweight materials
Lightweight
Comfortable
Aluminum frame
Anatomically-shaped shoe
Stable and safe
Air Flow ventilation system ensuring breathability
Wheel size: 84mm
Wheel hardness: 83A
Bearings: ABEC 7
Closure: lever, laces, Velcro band
Weight limit: 120kg
Suitable for versatile, everyday skating
Suitable for both beginners and advanced skaters
---
Size Table
EU sizing
25
26,5
27
28
29
30,5
31
32
33
34
35
36
Insole length (cm)
15,5
16,5
17
17,5
18,5
19,5
20
20,5
21
21,5
22
23
EU sizing
37
38
39
40
41
42
43
44
45
46
47
48
Insole length (cm)
23,5
24
25
25,5
26
27
27,5
28
29
29,5
30
31
Women's Inline Skates FILA Mizar 84 Lady - Product parameters
Frame
Frame is the main art of every skate.
Ice skates are designed to with stand low temperatures and potential puck hits. That's why most of them feature durable plastic frame.
Most adjustable 2in1 skates are also made of plastic.
Aluminium ensures durability, speed and light weight. Aluminium frames are found mostly in summer inline skates.
Aluminium
Bearings
The ABEC-1 through ABEC-9 scale denotes the presision of the manufacture process. The higher the number, the more precisely the bearings are made (smaller margin). Other scales are used mainly on children's skates.
ABEC 7
Weight limit (kg)
By observing the weight limit of the product, you significantly increase its service life and prevent it from wearing down prematurely. It is not recommended to exceed this limit.
120 kg
Wheel hardness
Wheel hardness between 76A and 90A is ideal for casual skating.
Wheel hardness over 90A is better suitable for speed and race skating.
83 A
Fastening
Type of fastening depends on the purpose of your skates.
Men's and women's ice skates are fastened by laces which are perfect for tightening the skate around your foot when ice skating.
Inline skates usually feature a combination of lacing and buckles or Velcro straps. The laces comfortably adjust your foot on the shoe and the straps and bucles will secure your ankle.
Both ice and inline children's skates, are mostly secured with buckles. They are easy to use and very popular among children. They are suitable for all children that lack the strength to tighten laces or those who can't yet tie them.
Combined
Special features
A loop to make putting them on easier
Women's Inline Skates FILA Mizar 84 Lady - alternatives -
all in stock
-36%
Inline skates WORKER Perleta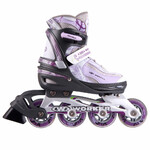 More info
Women's Inline Skates FILA Mizar 84 Lady is included in the following categories: