Basalt River Stone Set inSPORTline 10-12cm – 3 Pieces
Hot stones, large, suitable for legs and back, matt appearance and smooth surface, irregular shape, handcrafted, beneficial effects on the whole body.
Recommended accessories
Description
Alternatives (7)
Basalt River Stone Set inSPORTline 10-12cm – 3 Pieces
The inSPORTline Basalt River Stone Set is a small set of three 10-12cm sized pebbles which are made of volcanic lava and can be used for a full-body massage. Hot basalt stone thermo-therapy combines the power of three elements – Earth, Fire and Water – and provides maximum relaxation. The pressure of the hot stones penetrates deep into muscles and slowly relieves stiffness and tension. The inSPORTline Basalt River stones support blood circulation, improve regeneration, radiate positive energy, help with insomnia and affect energy pathways in the body. Basalt is an igneous rock, it is fragile and has the medium heat accumulation capacity. Moreover, these basalt stones help relax stiff muscles, spasms, relieve pain in joints, regulate digestion and induce a meditative state. These large-sized stones are intended mainly for legs and back application, but they are also suitable for other body parts.
Basalt stones are heated in a water bath to 40-55°C and then gradually placed on the body. The stones are not hot and induce a deep feeling of peace and relaxation. The warmth of the stones and their energetic vibration has an effect on the meridians leading from the tips of the toes and fingers to all of the internal organs. When experiencing health problems, fatigue and poor concentration, the energy pathways are blocked and obstructed, which makes it impossible for the energy to flow through the body. The warming power of the basalt stones awakens the energy and enables its free flow. Last but not least, the inSPORTline Basalt River stones stimulate internal organs and, when combined with aromatic oils, form the so-called stone therapy which has beneficial effects on the whole body and mind.
Technical Description:
3-stone set
High quality natural material
Handcrafted
High resistance
Large size
Flat and smooth surface
Irregular shape
Medium heat accumulation capacity
Material: basalt (matt appearance)
Size: approx. 10 - 12cm
Total weight: approx. 950g
For home and professional use
Effects:
Supports blood circulation
Improves regeneration
Relaxes stiff muscles, spasms
Relieves pain in joints
Reduces muscle tension
Harmonizes energies
Detoxifies the body
Regulates digestion
Radiates positive energy
Induces a meditative state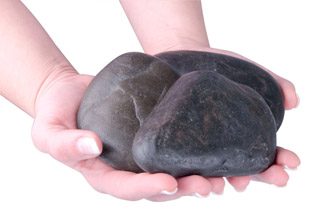 High quality
The basalt stones are made of volcanic lava. Their size is 10 – 12cm which is why they are handcrafted. The result is smooth stones with the medium high warming effect. The River Stones are usually heated to 40-55°C and then gradually placed on the body, mainly on the legs and back. The warmed-up stones then have a positive effect on stiff muscles, spasms and relieve pain.


Basalt River Stone Set inSPORTline 10-12cm – 3 Pieces - alternatives -
all in stock
Basalt River Stone Set inSPORTline 10-12cm – 3 Pieces is included in the following categories: