Motorcycle Helmet W-TEC AP-62G
Very light ABS shell, without ECE homologation, leather lining, goggles with transparent angled glass, quick release buckle.
Recommended accessories
Description
Parameters
Alternatives (8)
Motorcycle Helmet W-TEC AP-62G
Motorcycle helmet W-TEC AP-62G is made of a very light ABS shell. The helmet is equipped with transparent angled-glass goggles that protect your exes perfectly. The goggles are fastened with elastic strap that adjusts as the rider needs. The goggles frame is made of metal with a protective flexible padding that affixes easily onto your forehead. The helmet is easily secured or unfastened with a quick release buckle. Motorcycle helmet W-TEC AP-62G is simple, stylish and old-fashioned. If you want to make an impression with a retro style helmet at a parade or a friendly gathering, this model is definitely for you.
Technical description:
Very light shell
Goggles with angled transparent glass
Metal goggles frame
Quick release buckle
Material: ABS shell (acrylonitrile – butadiene – styrene), lined with leather
Weight: 750 g
Goggles weight: 120 g
Without ECE homologation (not suitable for road traffic)

Ideal for decoration and collector purposes
Adam Peschel recommends:
"W-TEC products will keep you safe", says Adam Peschel, Czech professional stuntrider.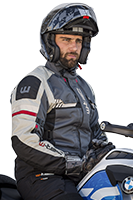 Motorcycle Helmet W-TEC AP-62G - Product parameters
Motorcycle Helmet W-TEC AP-62G - alternatives -
all in stock
Motorcycle Helmet W-TEC AP-62G is included in the following categories: