Boxing bandage Meteor 3 meter white
Recommended accessories
Description
Parameters
Alternatives (2)
Boxing bandage Meteor 3 meter white
Boxing bandage Meteor 3 meter white - Product parameters
Material
Bandages are usually made of neoprene or a bamboo-carbon material. The advantage of bamboo-carbon fibres is that they emit infrared radiation that stimulates blood circulation and applies pressure on the bandaged area while exercising. What's more, the material has unique thermoregulation properties that allow the bandage to dry quickly and resist unpleasant odours.
Elastic neoprene, on the other hand, will perfecly adjust to the shape of your body, preventing the bandage from moving out of place while providing comfort.
Cotton, Polyester
Weight (g)
The total weight of the product.
23 g
Fastening
Bandages usually have one of two types of fastenings. Velcro straps ensure perfect and adjustable fit. There are also elastic bandages that don't have any fastening and are just stretched over the joint in question. This way, the bandage fits perfectly. However, they can only be used by people with the same leg or arm circumference.
Velcro
Boxing bandage Meteor 3 meter white - alternatives -
all in stock
Boxing bandages Spartan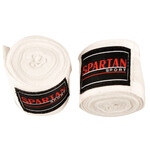 More info
Boxing Hand Wraps Everlast Pro Style 300cm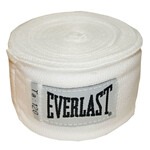 More info
Boxing bandage Meteor 3 meter white is included in the following categories: